Ramthun for governor? What Donald Trump will do next is the most interesting question.
Wisconsin State Rep. Timothy Ramthun (R-Campbellsport) took a new website – Ramthun for governor – live ahead of a "special announcement" he's scheduled for Saturday in Kewaskum. The website refers to him as a "Gubernatorial Candidate." Ramthun's campaign literature touts an endorsement from My Pillow's Mike Lindell, who is expected to be at his Saturday campaign event.
However, although it was live earlier in the evening on February 9, by about 10:15 p.m., the Ramthun for governor website went down. The reason for that is not clear.
A Ramthun gubernatorial bid would surely shake up the Republican race for governor, and not all conservative political observers are happy about it. In fact, one insider lamented to Wisconsin Right Now that the Wisconsin governor's primary is turning into a "clown show" that will help Tony Evers. That observer said there's a perception behind the scenes that former Lt. Gov. Rebecca Kleefisch has not locked down the race, a belief given fuel when former President Donald Trump publicly urged Sean Duffy to run instead, leading to a free-for-all as more and more candidates jump in.
"We need a heavyweight," the observer said. There's a move to get businessman Eric Hovde to throw his hat in the ring, and he's considering it, sources said.
However, there is clearly anger in the conservative base over the election and displeasure with legislative leaders that Ramthun will seek to capitalize on. His current battles with Assembly leadership, who disciplined him, elevated his profile somewhat. There's also the question of whether Ramthun runs as a Republican or Independent, although most observers think he would run as the former.
Former U.S. Marine Kevin Nicholson and business owner Jonathan Wichmann are also competing in the Republican primary and both have, like Ramthun, mounted anti-establishment campaigns. Nicholson is backed by Illinois billionaire Richard Uihlein, one of the country's most powerful Republican donors. Former Governor Tommy Thompson is still considering a gubernatorial run.
Ramthun is a Donald Trump supporter and fervent critic of the 2020 election. He received national press recently when a Rolling Stone article revealed that Trump had personally called Ramthun on December 2, 2021, to thank him for his efforts to decertify the election (Ramthun introduced a resolution to do just that which did not go anywhere in the state Assembly). "He offered to endorse Ramthun, and Ramthun knew how powerful that endorsement could be running for reelection to the Assembly or seeking a higher office," that article said of Trump.
That sets up the $68,000 question surrounding a Ramthun for governor election bid; what will Trump do?
Some believe a Trump endorsement of Ramthun is far from a sure thing and that another anti-establishment candidate, maybe Hovde, could appeal to the former president. Some think Trump may stay out of a chaotic GOP primary and wouldn't endorse someone who doesn't have a strong chance to win it; others think the election decertification issue is such catnip to Trump that anything is possible.
For about two weeks, sources have told Wisconsin Right Now that Ramthun, a Republican who recently butted heads with Assembly Speaker Robin Vos and legislative GOP leaders, has been widely rumored to be considering a run for governor.
Social media posts say that Ramthun is holding an event for a "special announcement" at the Kewaskum High School Auditorium, 1510 Bilgo Lane, in Kewaskum, on Feb. 12, 2022, from 11 a.m. to 2 p.m. It's labeled open to the public. However, the Milwaukee Journal Sentinel reported that, as of February 9, Kewaskum officials had not received a reservation from Ramthun for such an event.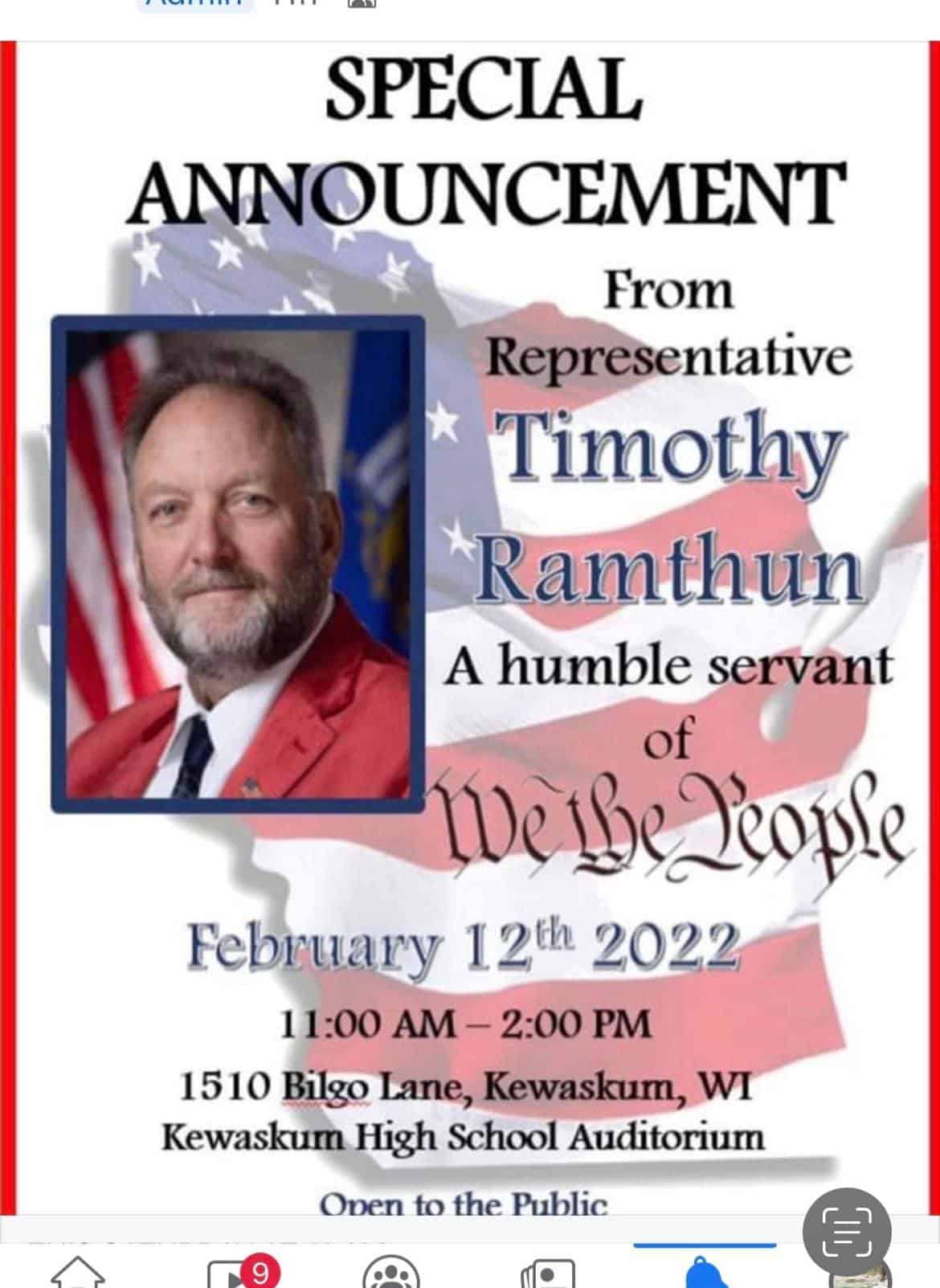 Ramthun was born in Kewaskum, Wisconsin. He was elected to the state Assembly in 2018. His state Assembly website describes him as, "Former executive business management consultant; vice president and directorship roles for multiple Fortune 100 and Fortune 500 companies that specialized in manufacturing, technology, finance, education, supply-chain service, and delivery and call center operations."
Ramthun for Governor Website
His new campaign website makes his intentions clear. It says, "I'm Timothy Ramthun, and I am running for Governor in Wisconsin. I'm a servant of, by, and for the people who believes in truth, transparency, and integrity. I will call for an independent full forensic physical cyber audit for the November 2022 election, beginning with my race regardless of its outcome. It's time we restore confidence in our elections process. Let there be light!"
In addition to the 2020 election, the Ramthun for governor website indicates he will also make issues like lockdowns and education a focus of his campaign.
The Ramthun for governor website also says, "Tim Ramthun will stand up for the people's Constitutional Rights in every facet of government. It was his efforts that wrote and introduced Assembly Joint Resolution 4, that ended Governor Evers unconstitutional overreaches after the shutdown."
Another section reads, "Timothy Ramthun has sat on the Kewaskum School Board for 9 years and has also been on the Assembly Committee on Education during his time in the assembly. He is keenly aware of all the issues that have been invading the education of our children and has a proven track record of doing what is right for both the children and their parents. He will fight to preserve education and stop the indoctrination."
Trump's earlier unsuccessful pushing of former Wisconsin Congressman Duffy to run for governor would seem to indicate that he's not rushing to embrace former Lt. Gov. Rebecca Kleefisch; sources say one problem there is that Kleefisch opted out of being a delegate at the 2016 Republican National Convention, citing a scheduling conflict with a Beloit Chamber of Commerce meeting, although she was a member of a 2020 Women for Trump bus tour and Trump picked her to lead the Women's Suffrage Centennial Commission.
Some observers chafe at the idea of a Ramthun bid; they believe the gubernatorial election needs to be a litigation of the failed policies of Tony Evers, tying him to Joe Biden – not a re-litigation of the 2020 election, a topic that does not play outside of hardcore conservative circles in a statement where the GOP nominee will need independents (and a big enthusiasm gap) to win it.
Those observers believe the media use issues like decertification to unfairly mock the documented problems that existed in the election, such as the Racine County Sheriff's investigation into the Wisconsin Election Commission operating above the law. Some observers believe that an ugly and competitive Republican primary will only help Evers, especially if it forces the other candidates and an eventual nominee to take more extreme positions and spend down their money.
Others think that the more candidates who get in the race on the "anti-establishment" side, the more it helps Kleefisch by cannibalizing her opposition. However, whether Republican voters can really be neatly divided into establishment and anti-establishment camps is unclear; after all, a lot of party activists like the former president. Ramthun would start with minimal name ID. A Trump endorsement, if it ever comes, though, would obviously shake things up dramatically. Ramthun would presumably argue he's in it to win it.
It's all shaping up to be a wild primary season.
The Rolling Stone article falsely blared, "Wisconsin Is Ground Zero for the MAGA Effort to Steal the Next Election." In fact, Ramthun and many legislative Republicans have split sharply over how far to take election concerns, with legislative leaders not embracing the nuclear option of decertification, which they believe is illegal and unconstitutional. They say there's no legal mechanism to do it.
Rep Ramthun just attempted to pass an Assembly resolution to recall WI's presidential electors.

Not only is it illegal, it's just plain unconstitutional.

As chair of the Rules Committee, there is ZERO chance I will advance this illegal resolution. #EndofStory

— Jim Steineke (@jimsteineke) January 25, 2022
The extremely biased Rolling Stone article brushed off all claims of election problems, even the legitimate issues documented by a non-partisan audit and a Waukesha judge's ruling banning dropboxes. The liberal media paint every documented election concern as unfairly "crazy," so some observers see a candidate pushing decertification as playing into that narrative.
The partisan Wisconsin Election Commission chaired by major Joe Biden donors, along with municipal clerks throughout Wisconsin, violated state law in numerous ways in the 2020 presidential election, according to that non-partisan Legislative Audit Bureau report, which was released on October 22, 2021. Read more about it here.
Ramthun's website comes on the heels of his dust up with Assembly Leader Robin Vos. Vos stripped Ramthun, a Republican from Campbellsport, of his staff member last month. The Republicans in Assembly Leadership then sent out an extraordinary letter obtained by Wisconsin Right Now, defending Vos and accusing Timothy Ramthun and his staffer of spreading "lies." Read the Assembly Leadership letter and get the background here.
Ramthun then accused Assembly Leadership of "misinformation."
"Republican Leadership posted a statement on 1/20/22 to offer apparent justification for the abrupt transfer of my full-time staff requisition that occurred the prior day," Ramthun wrote.
Here's what Rep. Timothy Ramthun said then:
"The statement indicated my office, specifically me and my full-time staffer, were putting out 'misinformation' regarding Speaker Vos working with Hillary Clinton attorneys. Upon review of all written and posted communications by my office, including those most recent in an email of election evidence sent to the Legislature, there is no indication of me or my office making such a statement."
He added:
"If your claim is your justification for reassigning my staff, and it is not true, he should be dutifully returned. We agree a better job of listening and communication is needed, citing specifics and refraining from speculation and wrongfully accusing, should be our shared priority in the pursuit of truth. To add misinformation to my statements, remove my staff and not address the evidence I have presented, only deflects from his 'wholehearted' support for the use of 500 illegal drop boxes in Wisconsin."
[embeddoc url="https://www.wisconsinrightnow.com/wp-content/uploads/2022/01/Leadership-Misinformation-Press-Release.pdf" viewer="google"]
Assembly leaders in their own statement had sharply criticized Ramthun, writing in part, "We support Speaker Vos's actions. No matter how much Rep. Ramthun and his staffer believe what they are saying is true, it does not make it so. Sending out communications full of lies is doing disservice to all voters. With so much information to parse through on the Internet and in traditional media, we all must do a better job of listening and communicating."
Rep. Timothy Ramthun's 59th Assembly District includes Hartford, Kewaskum, Campbellsport, Eden, Cascade, Waldo, Mount Calvary, St. Cloud, and New Holstein.
Conservative talk show host Mark Belling of WISN 1130 then demanded that Vos and Assembly leaders document their claim that Ramthun was spreading misinformation, filing open records requests with their officers. Belling wrote in a column posted to his website, "An open records request by me reveals that it was Vos and the leadership team that were spreading misinformation."
Belling wrote, "Vos and the other top Assembly members alleged Ramthun claimed that Vos was working with 'Hillary Clinton's attorney" to conspire to allow placement of voting drop boxes in Wisconsin.' Neither Vos nor a top ally, Rep. Cindi Duchow, have been able to back up their assertion that Ramthun ever made that claim."