Four people were arrested for their involvement in the shooting of an employee at the Wauwatosa George Webb restaurant on Sunday, Jan. 30.
The George Webb shooting suspects have been identified as:
Jadin D. Calbert (09/24/01)
Breanta J. Johnson (05/18/01)
Bryanna J. Johnson (05/08/01)
Heaven K. Williams (08/22/02)
Breanta J. Johnson and Bryanna J. Johnson were charged Monday with attempted first-degree intentional homicide with use of a dangerous weapon and party to a crime modifiers. Cash bond was set at $100,000 each.
There is a GoFundMe page to help the victim, an employee named Anthony. It reads, "In the early morning hours of January 30, Anthony was working as a waiter on the overnight shift when some customers got upset, pushed him down, and shot him in the face. They then proceeded to stomp on him before leaving. Anthony was rushed to the hospital, where the staff worked hard to stabilize him and ultimately saved his life. Anthony is a hard worker, just doing what he can to support his 3 year old son."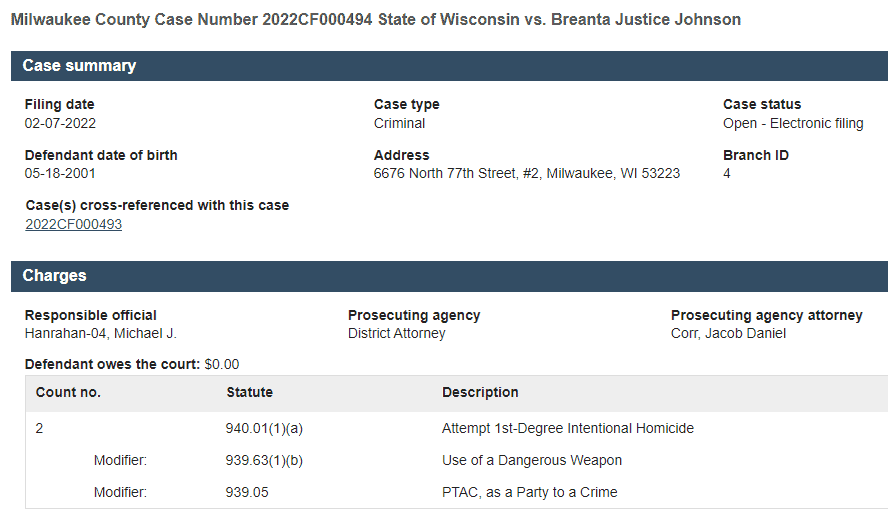 ---
Surveillance Photos: George Webb Shooting Suspects
Wisconsin Right Now had obtained these surveillance photos of the George Webb shooting suspects, however, we did not publish the photos until the suspects were taken into custody, per Wauwatosa PD's request.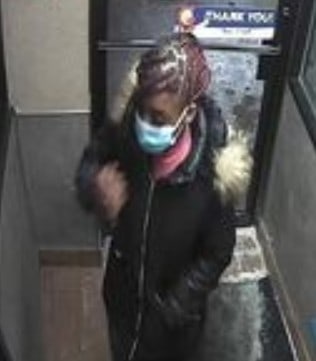 ---
According to Wauwatosa Police:
Wauwatosa Police arrested four adult females in connection with the fight and shooting at
George Webb which occurred on Sunday, January 30th, 2022. 
Around 12:15am, on Sunday January 30th, Wauwatosa Police responded for the report of a
shooting at 12201 W North Ave. Officers and investigators determined that an argument over food service between an employee and a group of customers led to a physical altercation which ended with a female subject firing one shot, striking the employee in the face. The suspects then fled the scene.
Investigators immediately worked to develop suspects and a suspect vehicle using information provided by witnesses and video surveillance from the area.
Today, Wauwatosa Police took four suspects into custody without incident. Two search warrants were executed at residences in the City of Milwaukee and additional evidence was recovered. Investigators are continuing the investigation and this case will be referred to the Milwaukee County District Attorney's Office in the coming days.
Between the time of the incident and arrests, multiple leads were obtained which resulted in numerous hours of investigation. It is important to stress that these types of investigations not only require the identification of a suspect but preservation of evidence related to the crime.
This presents a cautious balance of what to release to the public versus potential destruction of that evidence. Understand, in almost every incident we have more information than we release as we cannot risk compromising the recovery of evidence, information or location of any suspects.
Our initial investigation led us to believe that this was an isolated event and therefore no immediate danger to the public existed. Photos of our suspects and their vehicle were not released to media for fear of compromising the investigation and potential destruction of evidence.
The Wauwatosa Police Department would like to thank the officers and investigators for their diligence, quick work and professionalism in taking the suspects into custody without further violence.
---
George Webb Employee GoFundMe Account
The GoFundMe account set up for the employee has raised more than $19,200. An update on it from Anthony's mother says:
"I cannot thank everyone enough for the outpouring of love, support and prayers. We had quite a challenging Dr visit Friday but it's a new week and I'm hopeful we'll make better progress.
As most of you know Anthony was shot directly in the face. Anthony lost his teeth and a major portion of his tongue on the right side of his face. He has bullet fragments in his sinuses and lungs and the bullet severed a major artery in his neck and remains in his neck. He is a fighter! And refused to remain in the trauma unit/hospital and is home with family, most importantly to be with his son.
This senseless act of violence will impact him the rest of his life, physically and emotionally but knowing him, he won't let it stop him or his life. The support the community has show gives me hope for our society and for Anthony. Knowing he won't fall too deep into debt, or have to rebuild every angle of his life really relieves a lot of stress and pressures. Your support will help him focus on his physical, mental and spiritual healing and not worry about the day to day stress of living."