Two sting videos have emerged this week capturing Republican state Representatives John Spiros (R-Marshfield) and Elijah Behnke (R-Oconto). You can see the Spiros video above and the Behnke video later in this article and decide for yourselves how you take their comments.
Based on the comments in the videos, the unidentified people recording the legislators approached them from an anti-establishment, conservative perspective, expressing scorn for Assembly Speaker Robin Vos and, in the case of the Behnke video, demanding that the legislator aggressively tackle voter fraud in the 2020 presidential election. One woman identifies herself as the sister of talk radio host Mark Belling at the end of the Behnke video, but that claim could not be independently verified.
Behnke made a series of controversial comments in the video that the legacy media have jumped on, labeling Vos a "swamp creature" at one point and saying he wanted to punch Gov. Tony Evers; you can listen to the video later in this article and decide for yourself whether that comment was theatrical hyperbole. In particular, the media are making a big deal out of a comment in which Behnke said Republicans should "cheat" like the Democrats at election time.
That prompted the legacy media to run headlines like "Wisconsin GOP lawmaker calls for election cheating in video," but the full context in the video makes it clear that Behnke was saying Republicans should do what Democrats are already doing and did in the 2020 presidential election (actions they claim are legal, but many Republicans think were not, i.e. cheating), including actions relating to balloting in nursing homes.
In the video, Behnke also made it clear that he did not support decertifying the election and pushed back a bit at the constituents when they urged him to go full-throttle for all of their election fraud narratives.
Rep. Elijah Behnke Video
The media, in their stories on the Behnke video, also flatly stated that conservative election claims about the election are "false" or debunked," without saying that some claims raised by Behnke in the video are anything but – for example, he mentions Racine Sheriff Christopher Schmaling, who has referred felony charges against members of the Wisconsin Election Commission that are still being reviewed by a local DA. Schmaling said the Wisconsin Election Commission blatantly and openly violated state law and committed felony crimes throughout the state of Wisconsin by ordering that special voting deputies should not go into nursing homes during the 2020 presidential election, as required by statutes.
In addition, a non-partisan audit found serious problems in the election. The Wisconsin Election Commission chaired by major Joe Biden donors, along with municipal clerks throughout Wisconsin, violated state law in numerous ways in the 2020 presidential election, according to the non-partisan Legislative Audit Bureau report, which was released on October 22, 2021.
What the videos do continue to expose is fractures within the Republican Party and conservative movement, especially when it comes to election integrity issues.
Those fractures were also in display after an already chaotic week in the state Legislature after Assembly Speaker Robin Vos made a series of controversial statements and moves. First, Vos told ex-U.S. Marine Kevin Nicholson not to run for governor, touting former Lt. Gov. Rebecca Kleefisch for the post, and then, in a separate action, he removed a staffer from Republican State Rep. Timothy Ramthun over election-related comments about Vos that GOP leadership say were false. The Behnke video gets into the Ramthun saga, shedding new light on what happened. Vos then got into a war of words with Republican gubernatorial candidate Jonathan Wichmann, who is running as an outsider.
On the heels of all of that, the two sting videos emerged showcasing Spiros and Behnke being asked about Vos and, in the case of Behnke, the 2020 presidential election.
In the first video, Spiros is approached by a constituent in his office. "This is a legal notice of removal, We the People demanding the removal of Speaker Vos," the man in the video says to Spiros, who then walks away, walks into his office, and slams the door on the constituent.
Rep. John Spiros Video
Badger State Resistance, a patriot-oriented podcast that has labeled Kleefisch a "RINO," shared the video on Facebook and wrote, "Wisconsin State Representative John Spiros shows his cowardice when a constituent asked the Rep. for a signature towards the resignation of Wisconsin State Representative Robin Vos." The video was published to YouTube by a page called Unlock the Constitution. "This is how WI Rep. John Spiros treats his boss, We The People. Make this go viral," the caption reads.
That video was relatively short, but the Behnke video is more elaborate.
---
Rep. Elijah Behnke's Comments
What did Rep. Elijah Behnke actually say in the video?
He started out by talking with the constituents about Vos stripping Ramthun of a staffer, and he said, "I get the same Gateway pundit news article sent to me." He thought the national conservative site's article, which was sharply critical of Vos and was based on a Ramthun press release, was "a bad look" for the Assembly Speaker.
The Gateway Pundit story claimed: "EXCLUSIVE: New Information Shows Wisconsin Speaker Robin Vos Was Intimately Behind the Insertion of Drop Boxes Across the Country." Gateway Pundit based its story on a press release by Ramthun, which you can read here.
It contains a link to a letter written on behalf of Vos and Scott Fitzgerald that read, "Further, voters may also deposit their completed absentee ballots in authorized 'drop boxes,' which 'must be secured and locked at all times' to protect ballot integrity…We wholeheartedly support voters' use of any of these convenient, secure, and expressly authorized absentee-ballot-return methods." It does not mention Hillary Clinton, however. It came in the context of opposition by Vos and Fitzgerald to the "Democracy in the Park" efforts that they believed were unlawful collection of absentee ballots.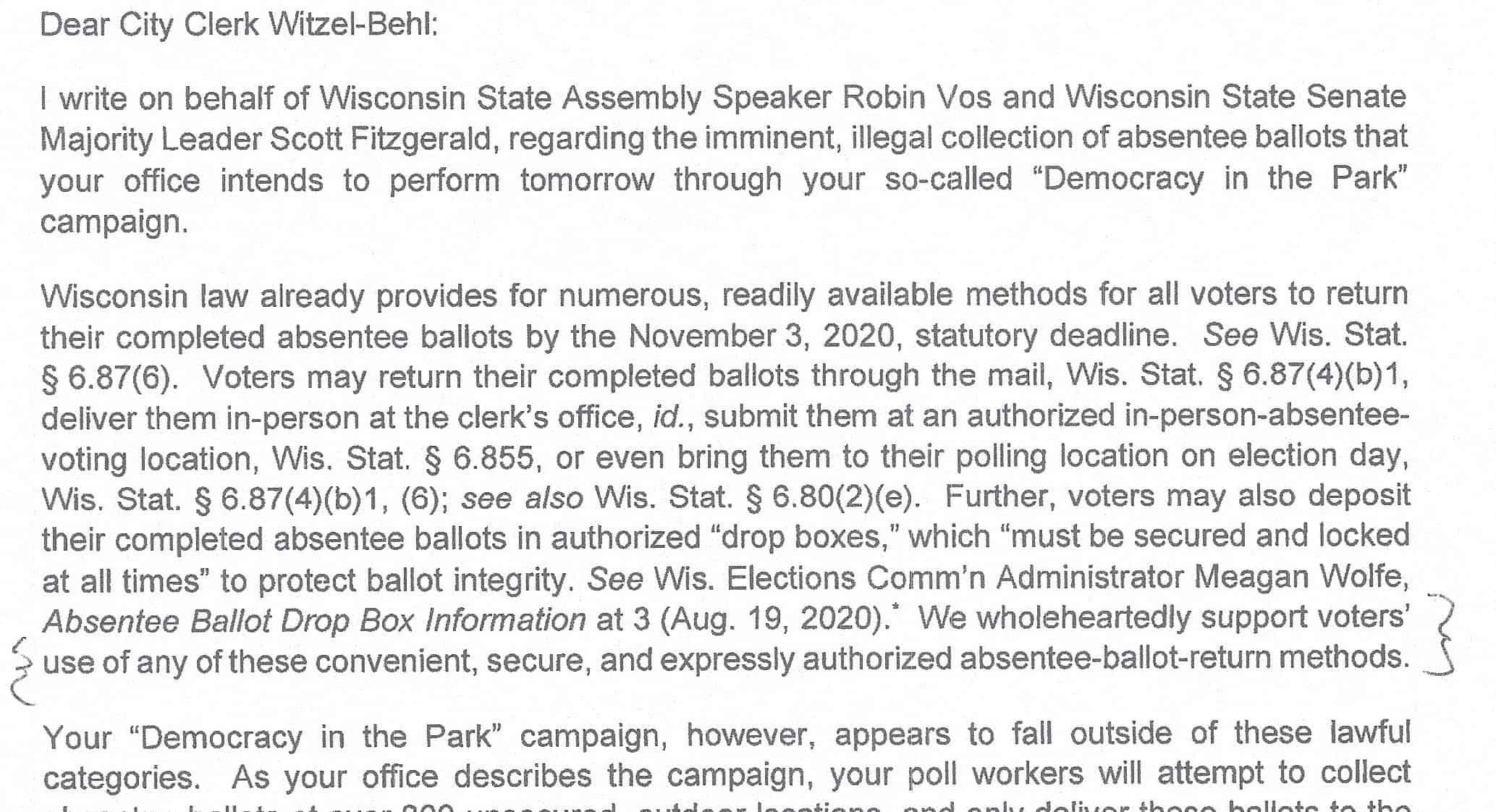 GOP leadership has pushed back at that article in a statement defending Vos's discipline of Ramthun, which he took because he says Ramthun's comments are false. "Speaker Vos has never worked with Hillary Clinton's attorney to authorize drop boxes across the country. His involvement in NCSL (National Conference of State Legislatures) did not involve anything having to do with drop boxes," GOP Assemby leadership wrote.
According to the sting video, Behnke revealed that, in caucus, Vos "called him (Ramthun) a liar."
Other legislators asked Ramthun "for a document with a signature or you're a piece of sh** for making the whole team look bad," Behnke revealed, adding that, "Tim was like, 'I don't have it.' That's why… he (Vos) punished him for going that far."
Behnke referred to himself as a "redneck from the North Woods" in the video and said it was "nauseating to see politics." He said the "Speaker does have a lot of control," indicating that Vos can pick the salary for legislative staffers and "goes around the state to recruit candidates." He said he defeated a "Vos approved" candidate, calling himself "an average guy who listens to talk radio.
When he first met Vos after being elected, "I almost said nice to meet a swamp creature when he said hi for the first time. I thought it was funny," Behnke said. At first when Vos introduced himself, Behnke said he didn't know who he was. "I said, 'Who are you? He said, 'I am Robin Vos.'"
He claimed he was "not playing politics." Of Ramthun, he added, "Tim has good intentions, but you can't lie about another legislator."
One of the constituents challenged Behnke, saying they didn't think Ramthun was lying.
"Find me a signature," Behnke said, and the constituent said, "It was an email… it's out there," to which Behnke responded, "I haven't seen the email."
Behnke then spoke about Evers and COVID-19, saying he is "just a regular guy" who doesn't wear a mask. He owns a cleaning business and when the Evers' Safer at Home orders came out, he was told he "could clean your factory, but I couldn't clean your house. It was so dumb. I was so pissed off. Tony Evers, I was like praying to God if I get to see him I'm going to punch him. So here I am; I haven't really seen him face-to-face yet so we'll see if I do. I was so mad, I was called non-essential."
He said he never wanted to be in politics and called Ramthun a "goodhearted person."
On the election, he said, "There's probably fraud." He cited a presentation by the Racine County Sheriff, who referred members of the Wisconsin Election Commission for felony criminal charges and said there were "statistical anomalies…I believe there was fraud. How much we will never know…we can't find out at this point."
He said it was "for the courts to decide" and there's "always going to be somebody tries to cheat."
Then he made the cheating comments. "I'm encouraging people, right that have the passion and power to be here in the grassroots. Let's cheat like the Democrats do. Make sure every nursing home you go in and see your relatives. This is how they bend the rules. They've got the dropboxes probably thrown out… Zuckerberg spent all that money. Got volunteers…"
He said that this is "how they do it." He said that Democrats are "canvassing like nobody's business, and we don't do that." He suggested that Republicans "tell others to vote early" and "do the same thing."
As for widespread election fraud, he said, "we don't have enough names. When I asked for the names, I've never gotten a list. The people who aren't really here, dead, moved out of the state, but still voted."
He noted, "I also want to have the truth at my back."
He said that if Vos walked out of the Republican caucus and there was a vote on a full forensic audit, a lot of people would have "more guts to say" they were for it "if he wasn't in the room."
One of the constituents said, "We can't be cheating," comparing that to the sides boiling down to "two gangs" if they did.
Behnke said the election was "probably stolen. If you look at the Milwaukee percentage… ballot dump in the middle of the night. Statistically, it doesn't add up." But he said that you "can't go into the haystack," because they can't compare names and addresses to ballots anymore.
As for decertifying the election, he said that "Biden's not leaving. He would laugh at us."
On Vos, he concluded, "I never voted for Robin, and I don't believe I will in the future."