(The Center Square) – The COVID-19 pandemic exposed American's reliance on the internet.
In many rural areas, frustration mounted as families leaned on unreliable or limited internet services for kids' school and parents' careers, but thanks to a federal internet program, better internet should be on the way.
The Federal Communication Commission (FCC) announced $20.4 billion of funding to internet providers through The Rural Digital Opportunity Fund (RDOF) over the next 10 years to help fix the digital divide in rural America.
The first phase will grant $9.2 billion, with the rest following. The funding will be sent to companies operating in 49 states and the Commonwealth of the Northern Mariana Islands
Minnesota is in the top 10 states awarded the most funding per rural resident, according to data from satelliteinternet.com.
Minnesota is set to net nearly $408 million for 143 internet locations for the next 10 years. That's broken down costing $72.37 per resident, but nearly $328 per rural Minnesotan.
While people living in urban areas can usually get fast and reasonably priced internet service, people in rural areas typically have slow internet access at high prices. Most rural internet options restrict data, complicating many typical internet activities like Zoom conferencing or online schooling. Some areas have no internet access at all.
Internet service providers have invested heavily in infrastructure in urban areas — where the cost per customer is less — but have skipped over most of rural America where costs are higher per customer.
Rural America's digital divide is exacerbated by the high price of bringing fiber and cable lines out to rural areas. The United States Department of Transportation tracked the expense of installing fiber-optic cable in 17 states and found that the cost ranges from $6,600 per mile to $267,000 per mile. The FCC estimated the total cost of installing fiber-optic internet to every rural American would cost $80 billion.
Phase 1 auction, announced in December 2020, focuses on areas with no internet access. The FCC defines "no internet access" as census blocks that are "entirely unserved by voice and with broadband speeds of at least 25/3 Mbps."17 Phase 2, not yet announced, will focus on underserved areas and rely on updated FCC data that will more accurately depict which areas have coverage.
States awarded the most funding per rural resident:
California: $830
West Virginia: $530
Arkansas: $377
Minnesota: $328
Massachusetts: $327
Mississippi: $313
Pennsylvania: $254
Wisconsin: $248
Illinois: $205
Michigan: $201
States awarded the least funding per rural resident:
Rhode Island: $9
New Jersey: $13
Connecticut: $23
New Hampshire: $50
North Dakota: $53
Delaware: $73
Vermont: $80
Hawaii: $90
Utah: $93
Texas: $117
Here's a breakdown for all the states.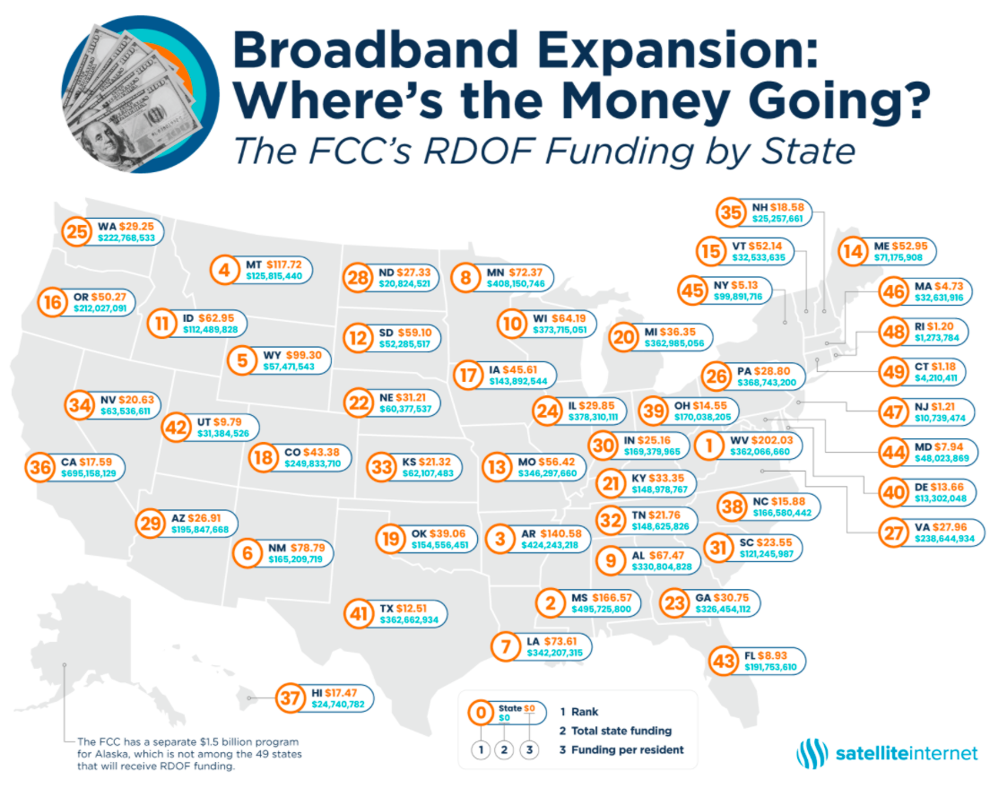 The national average of broadband funding per resident was $43, satelliteinternet.com found. On average, Americans spend around $57 on the internet each month with data caps pushing costs up to over $100.