(The Center Square) – At a 6 p.m. Monday city council meeting, Brooklyn Center will attempt to weigh public safety with a resolution to divert roughly $1.2 million from police funding to police reform.
The measure follows the April 2021 fatal shooting of 20-year-old Daunte Wright by former Brooklyn Center Police officer Kim Potter. Potter conducted a traffic stop on Wright and apparently confused her Taser with a gun, fatally shooting Wright. Potter's trial starts this week.
The $1.2 million would be funded by leaving unfilled 14 vacant positions in the police department. It's unclear if those positions would be eliminated or just left unfilled.
The American Civil Liberties Union (ACLU) recommended Brooklyn Center in 2022 commits at least $1.5 million in the FY22-23 budget toward funding the Community Safety Act and deem five funding priorities.
Fully fund the Community Response Team to respond to situations that don't require armed law enforcement.
Hire a director of the Community Response Team.
Fund the implementation committee.
Provide Community resources such as housing, health care, jobs programs, etc.
Conduct a civilian traffic enforcement pilot study.
The diverted spending aims to drive down poverty, fatal clashes between police and residents and use public funds to help the most vulnerable. Brooklyn Center has a higher poverty rate than similarly sized cities. About 15.1% of the nearly 34,000 person town were living under the poverty limit, with a per capita income of $24,900 (in 2019 dollars).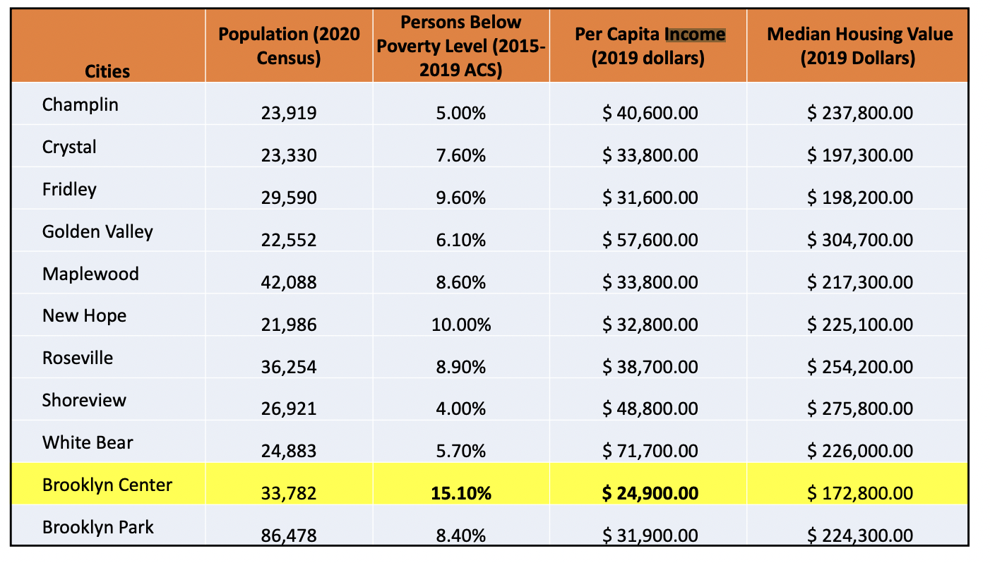 The ACLU argued that alternative programs would divert mental health calls to its appropriate team instead of the police, allowing mental health teams to respond to a mental breakdown, and let the police handle violent crime.
The ACLU said similar models in other cities had saved taxpayers millions in ambulance and emergency hospitalization costs and that higher police funding doesn't necessitate safer communities.
According to a memo, the city's 2022 annual public safety discussion aims to eliminate systematic racism and inequalities, prevent the loss of life by police, and shift the mindset, structures, and patterns of behavior related to systematic racism and inequalities.
The city plans to accomplish the goals through:
Unarmed personnel non-motorized traffic offenses.
Community response – unarmed mental health and social worker practitioners address 911 calls for mental health, social and medical.
Citation and summons instead of arrest for some misdemeanor offenses.
In all, the police reform package would cost $1.87 million, counting a $500,000 grant and $150,000 additional city dollars.
However, Brooklyn Center's police union said it budgeted for 49 sworn officers in 2021 but currently only has 35, three of whom can't work and are on long-term medical leave. That leaves 32 officials available to respond to calls. Brooklyn Center's police union warned if this vote passes and the city eliminates 14 positions, it will slash 30% of available officers to respond to service calls, the union said in a press release.
Police staffing affects call response time. City documents showed that the average wait time for service calls nearly doubled from April 11, 2021, from below 10 minutes to almost 18 minutes as of Sept. 1, 2021.
"The data above reflects an 83% increase for holding time and almost a 10% increase for response time. With even less officers today, it is likely the holding and response times will be even longer," a memo said.
Minnesota's major law enforcement organizations oppose the measure. In May, Jeff Potts, executive director of the Minnesota Chiefs of Police Association, requested the city council reject or table the vote.
Potts said he supports police reform but raised three concerns. Potts said the resolution conflicts with at least four state statutes, including for domestic abuse; harassment; violations of Orders for Protection or No Contact Orders; and authorized use of deadly force by peace officers.
Potts also said the resolution would authorize non-licensed employees to violate state law via the civilian traffic study.
"We believe this would heighten the threat to those individuals and the public," Potts wrote. "We're fearful this would have the unintended consequence of possible offenders ignoring, fleeing, or confronting the civilian employees. Similarly, the proposed resolution prohibiting custodial arrests or consent searches for non-felony offenses would prevent arrests for driving while under the influence of alcohol or a controlled substance and careless, reckless or other dangerous driving conduct. This is contrary to public safety." 
Potts also said that acting Brooklyn Center Police Chief Tony Gruenig and his administration haven't been asked for help to develop the resolution.