The mayor says about 75% of the town is gone, and the governor says the missing list is eight pages long.
Dawson Springs is a town of about 3,200 people. The destruction from the massive quad-state tornado is immense, yet it has been overshadowed by the devastation in Mayfield, Kentucky, about an hour away. Yet the devastation here is so severe that the mayor says about 75% of the town is gone, and the governor says the missing list is eight pages long. Single-spaced.
About 95 people are still missing and 13 are confirmed dead in Dawson Springs, where the National Guard is checking identification cards to get into the community, and residents tell us looting has already occurred.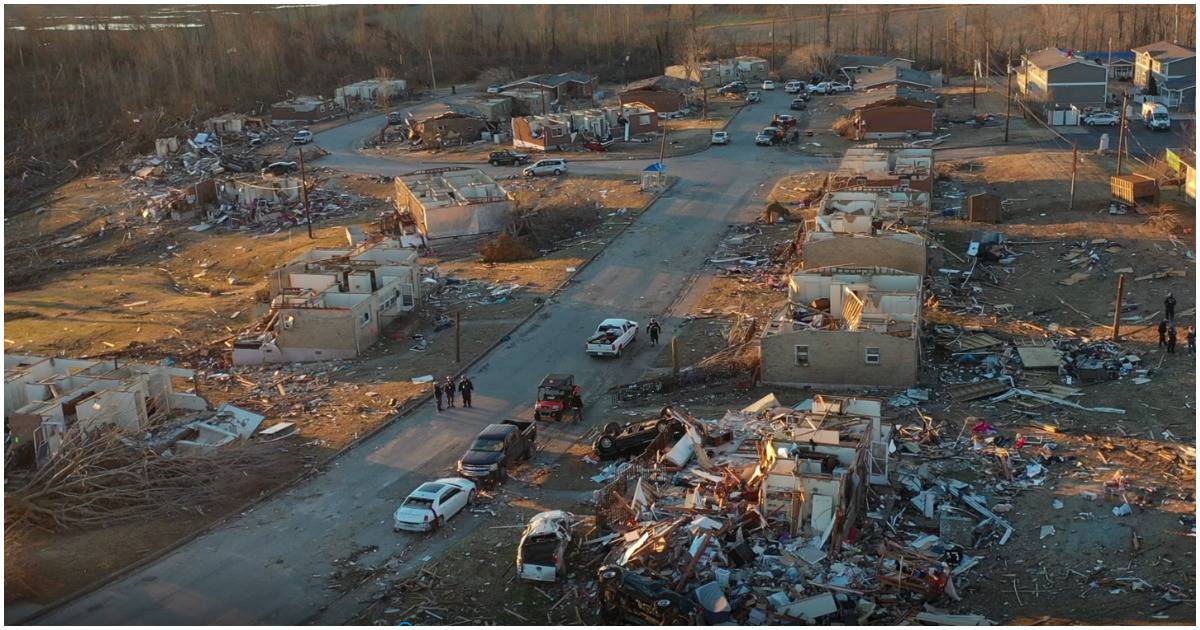 Dawson Springs drone video shows how the twister obliterated entire low-income apartment buildings, moved houses off their foundations, bent trees, overturned cars, and smashed homes to pieces. It threw people's bodies into their neighbor's yards and into local parks. Almost everyone in this tight-knit town knows someone who died and is missing, and the traumatized residents are trying to pick up the pieces with the news media largely focused elsewhere. At times, they're finding the bodies of their fellow community members.
We heard horror stories – about an infant who died of brain damage several days after the tornado and about two female relatives found armless in a bed that the tornado lifted down the block and about bodies being found in trees.
Residents said a teenage girl was among the dead as bodies were still being pulled from wreckage so severe it almost looked like a plane had crashed or a bomb went off, wiping whole blocks off the map. Officials have now confirmed the death of the infant; her name was Oaklynn Koon. Her parents have posted heartbreaking comments on their Facebook page.
"Oh lord please be with us. My mom's house is gone," Jackie and Douglas Koon wrote. "We was in the bathroom and we all went flying and ended up way on the other end of our neighbor's house. My poor babies. Nothing is more scarier than knowing a tornado is heading your way and hearing your kids freaked out and thinking we are going to die. To Bentley having a seizer. If Oaklynn wasn't in her car seat she wouldn't be here today. Still here at the hospital. You really never think you would be the one that goes through something like this. Man hold your loved ones tight. I'm surprised we all made it out alive. I never imagined having to go through this in life. Prayings for Dawson." Oaklynn later died.
In Dawson Springs, we found a man who was sleeping in a chair at night to protect his property from looters and because he had nowhere else to go (some newly homeless people are being put up by the government in a state park.)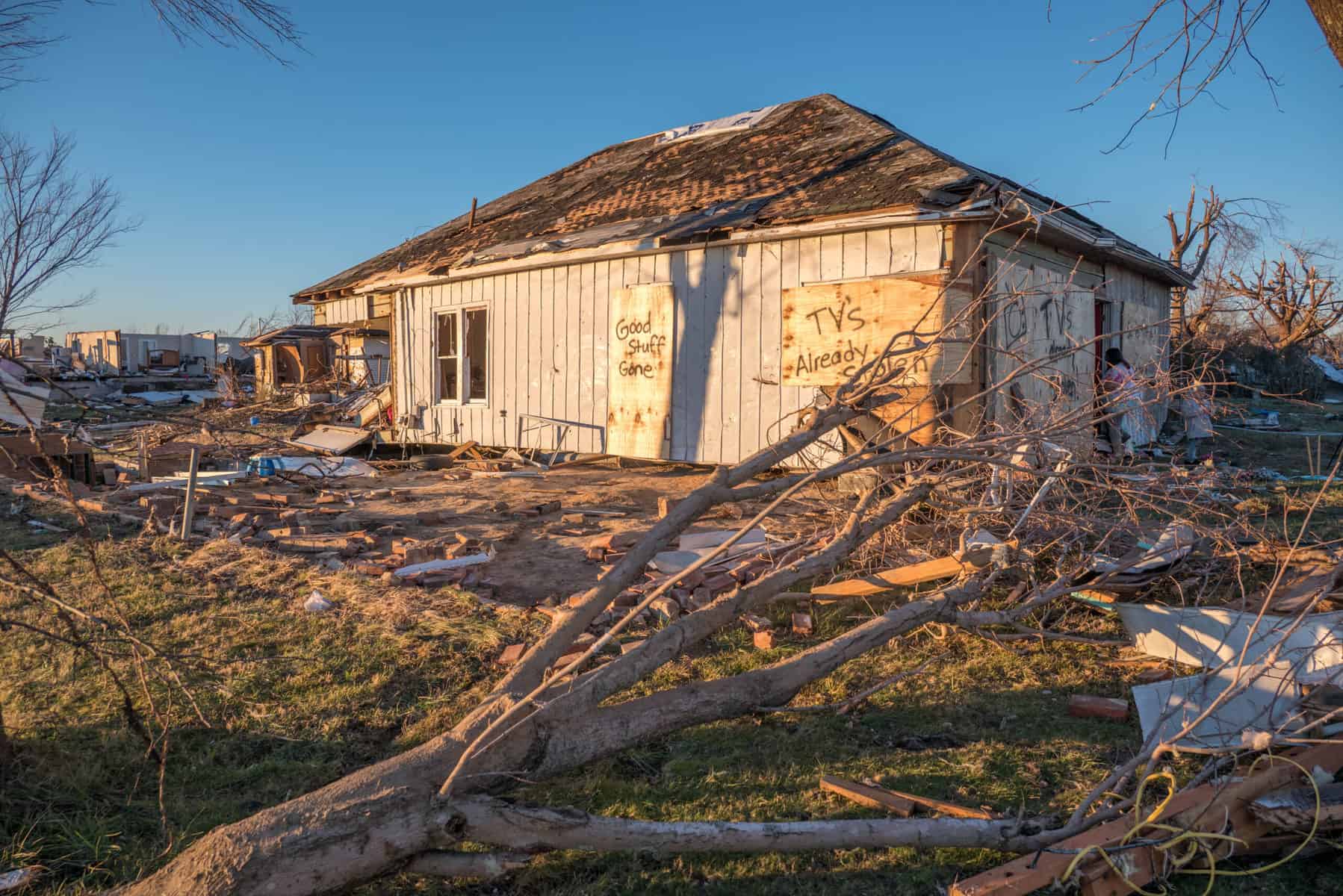 We found a man, David Capps, who had scrawled the words, "TVs already stolen" on the outside walls of his ravaged home. He said looters struck immediately. He declared his scattered belongings just "stuff," though, saying his faith and community would get him through. His mother survived in a bathtub with just a cat and Bible. His wife lost several relatives to the tornado. Capps described finding bodies in his backyard. But he was determined to get through it all, relying on religious faith.
"It's devastating. They were finding bodies behind the house," Capps said. The damage is "everywhere you turn," he said.
We found a woman who was hovering with her children and husband in the basement when the tornado struck. Now her home is in shambles, with entire walls missing, completely uninhabitable, and her family's belongings have been whipped around the backyard and aloft into trees. She was still looking frantically for her cat.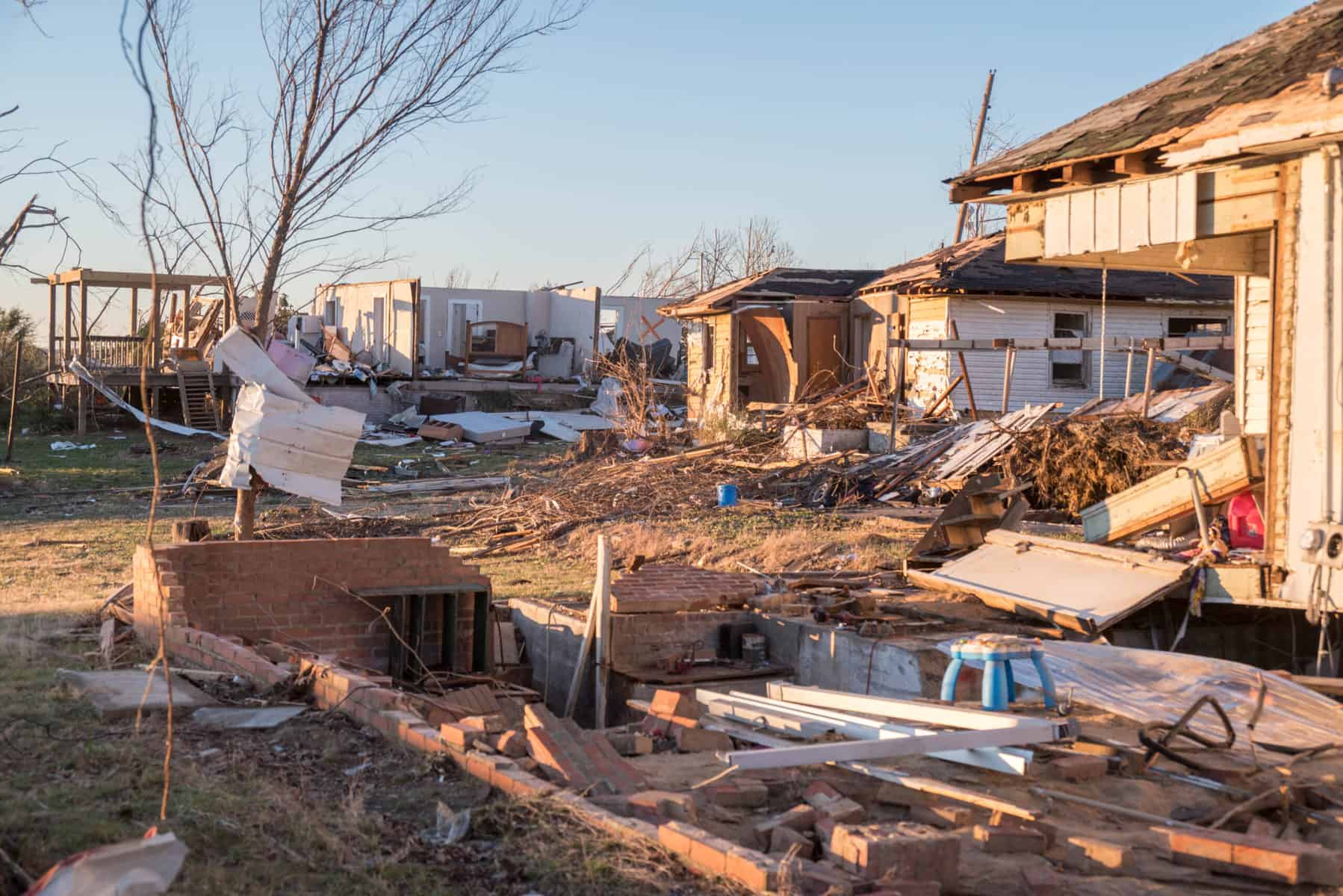 We found a pastor and his wife presiding over a makeshift shelter by candlelight in a church called Dawson Springs Revival Center. Laura Berry, the pastor's wife, said, "We are a church and our town has been devastated so we decided to just come down here and stay down here… We've had donation after donation. We have places for people to sleep. We're just trying to do what God's called us to do."
Berry added: "They had search crews in. They even brought the dogs in to help search."
It's hard to describe the scope of the damage in this town; entire neighborhoods were leveled, even as the tornado miraculously skipped some homes. The community was already reeling from the death of a teenage boy in a car accident.
The town used to be known for its mineral water, not its devastation.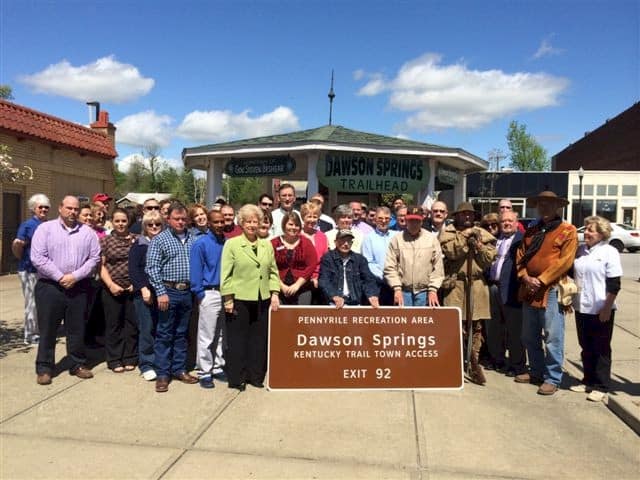 "Dawson exploded onto the scene as a leading health resort in the South," the community's website explains.
"In 1898, 'Springs' was added to the name of the town in recognition of its mineral water. The most likely name for the town was 'Dawson Wells,' however to many citizens that name just didn't sound right. At the time there was a beautiful bubbling spring in Sandusky Park near the center of town. With that spring in mind, someone suggested that 'Dawson Springs' was a more attractive name, and the name was adopted. To this day many people mistakenly think that the mineral water the town is known for came from springs instead of wells."
---
Dawson Springs Drone Video