A Milwaukee man who was released on bail in an August stabbing case is now charged with first-degree reckless homicide in the stabbing death of another man, Wisconsin Right Now has learned.
An eyewitness told police that Chadrick R. Marcinkiewicz said words to the effect of "I told you" and "that's what you get" while making a thrusting or stabbing motion with his arm towards the victim, Dominic Salas, who died. Read the criminal complaint here.
The homicide charges against Chadrick R. Marcinkiewicz come as national controversy swirls around the Milwaukee court system and bail reform following the low bail amounts given to Waukesha parade massacre suspect Darrell Brooks in two pending felony cases in Milwaukee.
In fact, court records show that Marcinkiewicz appeared in court virtually in the earlier stabbing case just a few hours before the homicide. "Defendant's zoom connection was lost due to his phone battery losing power. Matter is adjourned; hearing to be started over on the next date," the court records show.
On August 20, 2021, Court Commissioner Katryna Childs Rhodes set Marcinkiewicz's bail at $5,000 bail for first-degree recklessly endangering safety in the earlier attack. The court records say, "Court ordered defendant TURNED OVER TO Justice Point for Level 5 Supervision with Electronic Monitoring. for no contact monitoring only. (OVERRIDE) If electronic monitoring device is unavailable and cash bail has been paid, bail to revert to $ 5,500. If Alternative bail is paid, Defendant to be released and placed on Electronic Monitoring waiting list. No possession of dangerous weapons or firearms."
He eventually posted $5,500 bail. We wrote the chief judge to ask her if there is an electronic monitoring device shortage and why; she said she would get back to us on it.
Marcinkiewicz's First-degree Reckless Homicide Charge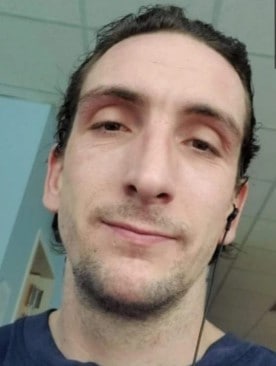 Marcinkiewicz was charged with first-degree reckless homicide on Nov. 26 in Milwaukee County Circuit Court. The criminal complaint says, "On November 23, 2021, City of Milwaukee Police Officers were dispatched to an incident at 1507 W. Lincoln Avenue, City and County of Milwaukee, State of Wisconsin. Upon arrival, officers found the body of the above mentioned victim, Dominic Salas. The victim had suffered a stab wound to the chest
and life-saving measures were not successful. The victim died of his injuries." The complaint says the stabbing murder stemmed from an argument but didn't specify what it was about.
Bail has now been set at $250,000. But that wasn't the case in August.
On Aug. 31, 2021, Marcinkiewicz was charged with two new misdemeanors – operating after revocation of his license and tampering with an ignition interlock device – while out on bail in the earlier stabbing. He was mailed a summons, but by September 23, the case was dismissed for unclear reasons.
Marcinkiewicz's August Stabbing Arrest
What happened in the earlier stabbing case from August? The one in which he was out on $5,000 bail when he was accused in the recent murder? It's convoluted. The complaint says that a Milwaukee police officer was dispatched to a southside hospital "regarding a battery cutting incident."
She reports that when she arrived the victim was undergoing a scan to determine the depth of his injuries and whether an organ had been punctured.
He told police that a male friend of his allowed the victim to sleep at his house. But he didn't remember his exact address, and his cell phone was dead with no way of charging it. While on South 13th Street area near a barber shop, he saw a female acquaintance he didn't know by name.
He referred to her as Drew "due to her resemblance to the actress Drew Barrymore," the complaint says. He told her his phone was dead and asked if he could charge it at her residence. She obliged, and they went to her residence in the 2400 block of S. 13th St.
At the residence, she said she had been evicted and discussed her boyfriend Chad, whom the victim knew as acquaintances. After 20 minutes of charging his phone, the complaint says, "Chad arrived at the front door of the residence and immediately demanded (the victim) to get the f*** out of my house, brandishing a tan handled box cutter" that was already on Chad's person.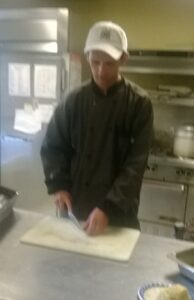 The victim said Chad's anger confused him because they knew each other and Chad used the box cutter to cut his shoulder, according to the complaint, which said that Drew fled out the door and the victim tried to run, but he and Chad fell down the stairs.
"On the second floor chad continued to assault him with the box cutter," the complaint says, adding that the two fell down additional flight stairs, and into an alley, where the victim began screaming for help. "Chad continued to assault him" even as witnesses in the alley begged and screamed.
"Chad continued to assault him with the box cutter," the complaint says. Chad said to a nearby pickup truck, "Come get him before I kill him," the complaint says. The occupants of the truck drove him to the hospital, and Chad got up and walked away.
We found this post on a Facebook page tied to Chad: