Milwaukee Ald. Robert Bauman, whose district covers part of Water Street, wrote a constituent that "it appears no one wants to see strong enforcement" to stop the violence and chaos in the key entertainment district, even though he admitted its "viability" is "at risk."
In the messages obtained by Wisconsin Right Now, Bauman blamed Mayor Tom Barrett, saying that Barrett is "calling the shots" and his plan is "not working." Bauman passed the buck and said there are "few options" and his own input was not requested.
We asked for a sit-down interview with Barrett about the Water Street violence, but he declined an interview. His spokesman Jeff Fleming gave us this statement instead, "Multiple city departments are adapting their strategies to address unruly crowds downtown and elsewhere in Milwaukee.  Public works, the health department and the police department have coordinated new approaches aimed at maintaining safety, and those approaches are refined as the situation warrants.  We are working cooperatively with residents and businesses affected by late night crowds to find the best solutions to these challenges."
Meanwhile, the upset constituent described what's been happening down as "a nightmare of a month." We've previously reported on the violence and chaos, which includes two weeks in a row of shootings, including a homicide, as people flood into the bar district.
We've also been told by law enforcement sources that Barrett and police command staff got cold feet from taking more aggressive enforcement action on Friday. Instead, blatant drug and open intoxicant use was allowed in front of officers and the disorder has repeatedly culminated in shootings, including one that occurred a foot away from us on Friday night, June 18, 2021.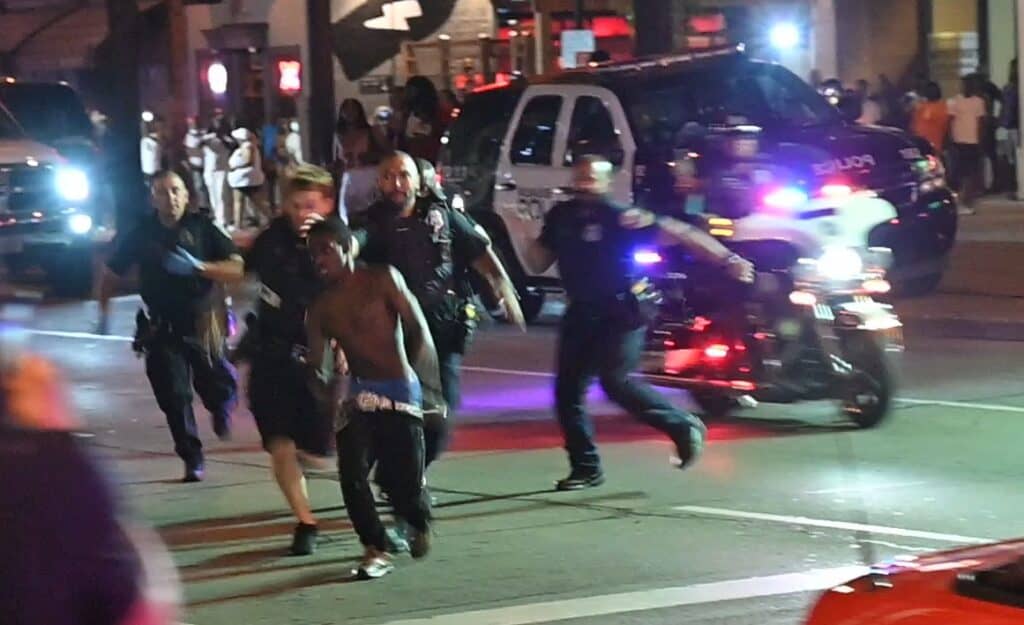 What did Robert Bauman Say?
In the first text message we received, Robert Bauman wrote, "I am aware of the situation. I am sorry to hear the mayor's plan is not working. He formulated this plan without any council input. I was not briefed on the details."
He added: "I get the sense that there are few options since it appears no one wants to see strong enforcement and the business stakeholders have not publicly called for stronger action. I get the sense that MPD does not want to stick their neck out since a strong response could get very messy and actually more violent at least in the short run."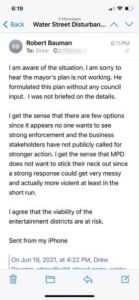 Bauman noted: "I agree that the viability of the entertainment districts are at risk." The message was in response to one sent to him on June 19, 2021.
We also received this exchange between Bauman and an upset constituent.

The constituent wrote, "The dramatic increase in violence, open alcohol and drug use, drag racing and overall chaos on Water Street is completely unacceptable. I feel unsafe in my own home. We are going on three weekends now with at least one shooting. How is this acceptable? What is your, the mayor's and MPD's plan to end this? I have heard nothing but silence from your office on what has been a nightmare of a month. I would invite you to come to Water Street at 1 a.m. any weekend evening and witness with your own eyes what is occurring. This is your district and your city. I am asking you to take action and put a stop to what is happening in my neighborhood and on my front step."
Bauman responded,
"The mayor has developed a plan with MPD, MHD and DPW. No council members were involved in formulating that plan. We were told it involves towing, signage, motor vehicle enforcement, banning food trucks and parking restrictions. I would respectfully suggest contacting the mayor's office regarding the details. I agree. Matters are out of control, but my input was not requested. All the departments involved report to the mayor. He is calling the shots."
The constituent wrote, "I have also emailed Mayor Barrett about my concerns. It is disheartening to hear as an elected official you have washed your hands of such a severe situation in the district you represent. I would hope you would be the biggest advocate for safety downtown. Respectfully if I were in your shoes I would not be waiting for my input to be requested."