Attorney General candidate Ryan Owens has given a series of shifting statements about what happened to four missing podcasts he recorded with people who are Never Trumpers or tied to anti-Trump statements. One podcast is with notorious Never Trumper Charlie Sykes.
Wisconsin Right Now broke the story on Sept. 29, which led Owens to give a series of explanations to other media.
Owens has now admitted to the Milwaukee Journal Sentinel that he deleted some podcasts, claiming they aren't newsworthy after giving conservative talk show host Mark Belling a convoluted, different story, and after refusing to answer our question about whether he deleted podcasts at all. It can be a crime in some circumstances to destroy a public record, although it requires intent to defraud or injure. "Whoever with intent to injure or defraud destroys, damages, removes or conceals any public record is guilty of a Class H felony," state statutes say.
"UW-Madison believes the podcasts in question were removed at the request of the former director of the center," university spokesman John Lucas told Wisconsin Right Now. "The university is in the process of locating and restoring these files in the interest of transparency and public interest in the content."
After UW-Madison's statement, Owens eventually told the Milwaukee Journal Sentinel that he deleted some podcasts from the Internet. That statement came after he told conservative talk show host Mark Belling a file transfer glitch was to blame for the problems.
"I had some podcasts taken down as they aged and the issues became moot or less newsworthy," Owens, who recorded them when he was director of UW-Madison's Tommy Thompson Center, said in his second statement to the Milwaukee Journal Sentinel.
---
The Timeline of Owens' Shifting Explanations
Owens' Response to Us
On the afternoon of Sept. 28, 2021, we wrote Owens' campaign and asked,
1. Does he know why these podcasts are no longer available on the internet? Did he remove them? When and why? Does he know if someone else did? Who, when and why?
2. Can you send us these four podcasts?
3. Does he know why the Sykes audio can't be found? Where is it? Is he concerned about that? Does he call on UW Madison to find and release it?
The campaign ignored those questions but responded to other questions we asked Owens about whether he supported Donald Trump.
Owens' Response to Belling
On Sept. 29, 2021, conservative talk radio host Mark Belling asked Owens similar questions, namely, did he delete the podcasts?
This is what Owens told Belling:
"After I stepped down as the Center Director, I was still the "owner" of the podcast folder in the UW System. I wanted to remove myself from that because I was no longer the Director. I had to transition the files over to staff.
Because of the amount of data, it took a long time to copy/paste over whatever the program did. We had some hiccups with the files in that process. I don't know why the Sykes file is not available. It was my understanding that after the transfer hiccup they all reappeared in the folder.
At the Center, our team had conversations all the time about updating the website to keep it as relevant and usable as possible.
Of course, these podcasts should be available to the public and I hope UW Madison releases them right away."
What Owens told the Journal Sentinel
The Journal Sentinel reported that Owens gave two statements to the newspaper – one before UW-Madison's statement and one after it.  Owens "offered evolving accounts regarding the removal of the episodes of the University of Wisconsin-Madison podcast," the newspaper reported.
According to the newspaper, in his first statement, Owens "characterized it as a mistake and suggested it might have had to do with the update of a website…Owens initially said he had to transfer his files over to other staff when he left the center. There were some hiccups during the process because of the size of the files, but Owens said he believed the issues had been resolved."
Then, after UW-Madison's statement, the JS reported that Owens gave them a second statement, saying, "I had some podcasts taken down as they aged and the issues became moot or less newsworthy."
---
Ryan Owens' Deleted Podcasts
The four podcasts, recorded in 2019, were deleted from the Tommy Thompson Center's website and Soundcloud account. Center Director Professor Alexander Tahk told Wisconsin Right Now that he located three of them on an internal shared server but can't find the podcast Owens recorded with Sykes at all.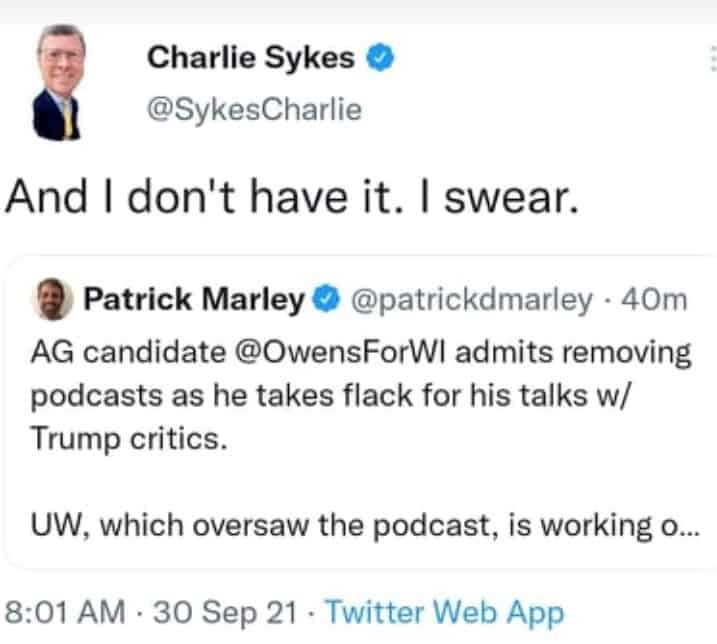 However, why would the four interviews be moot or less newsworthy? Arguably they are more newsworthy because Owens is now a candidate for state Attorney General. Fond du Lac County District Attorney Eric Toney is the other Republican candidate running for AG; he told WRN: "This is another troubling example of Ryan Owens's pattern of dishonesty, which is unacceptable for someone who wants to be the state's top cop." He said UW-Madison should investigate to determine whether Owens, as Tommy Thompson Center director, followed state laws for retaining public records.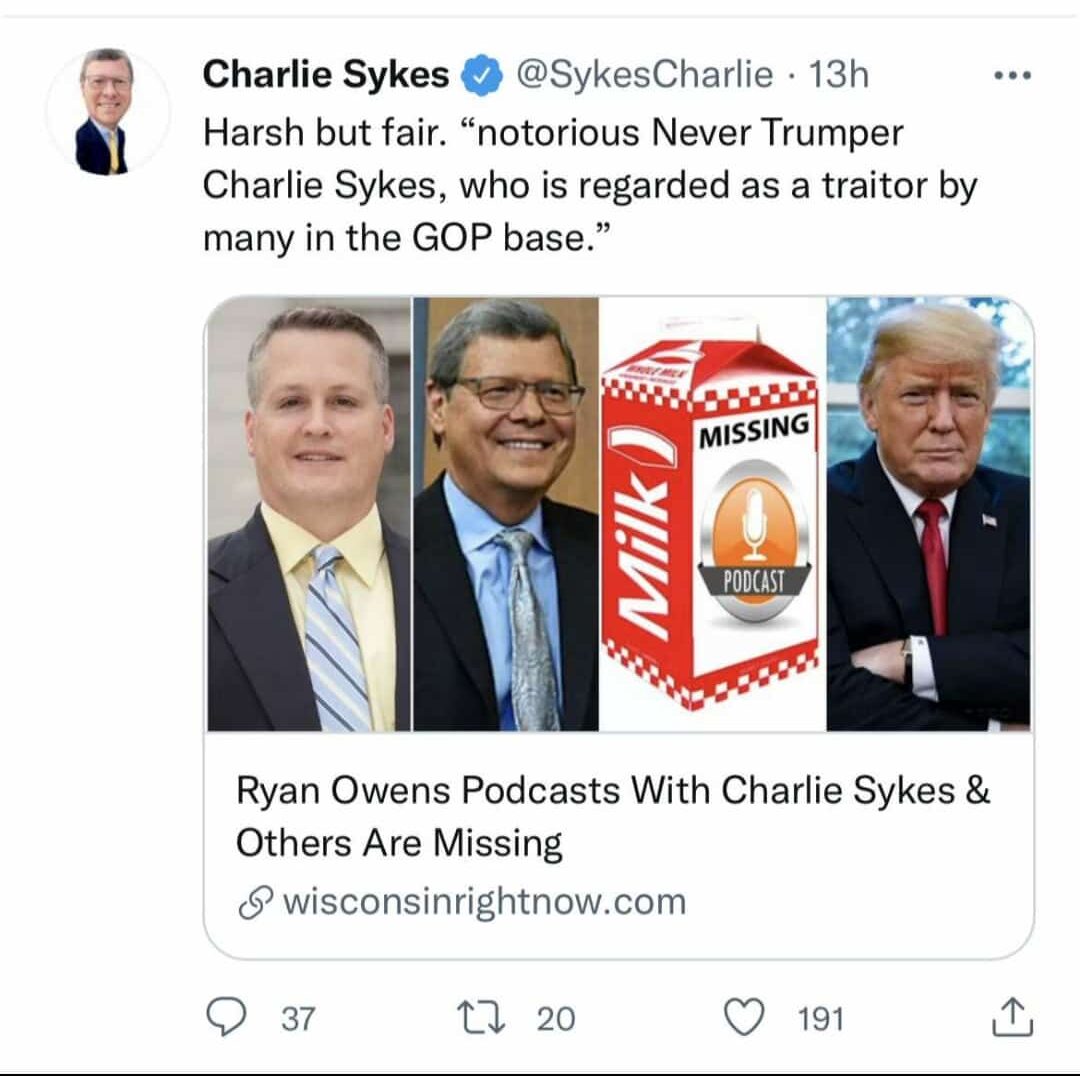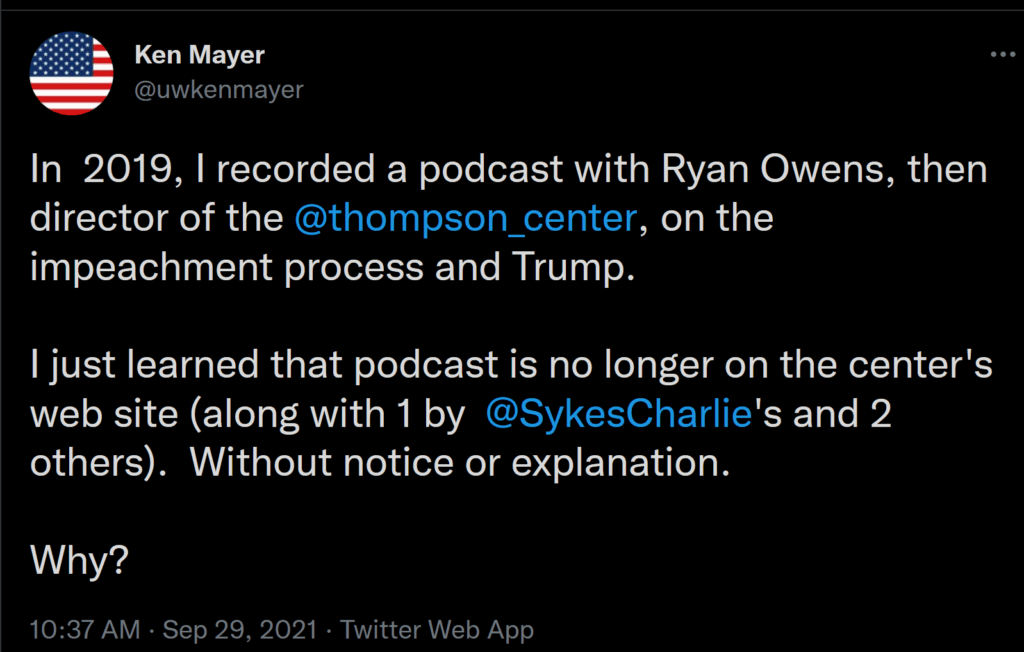 ---
The podcasts were with Sykes; prominent Never Trump political consultant Mike Murphy; a professor named Ken Mayer whose syllabus referring to Trump generated a national controversy and who spoke with Owens about the president's impeachment; and a conversation with Scott Coenen, who runs a conservative energy group. We wrote Mayer and Coenen and asked if they still have their podcasts but didn't hear back.