Another is charged with assaulting his spouse by strangling, hitting, raping and suffocating her since arriving to Fort McCoy.  
Two Afghan refugees at Fort McCoy – Bahrullah Noori and Mohammad Imaad – are accused of committing serious crimes in Wisconsin, according to the U.S. Department of Justice. Noori is accused of the sexual abuse of two boys, some of which occurred on the 20th anniversary of the Sept. 11, 2001, terrorist attacks. Some of the abuse continued for 15 days, the complaint alleges.
The complaint against Imaad described severe domestic violence, with Mohammad Imaad allegedly threatening "to send her back to Afghanistan where the Taliban could deal with her."
The complaint for Bahrullah Noori can be read here.
Read the complaint against Mohammad Imaad here.
The U.S. DOJ announced the charges in a Sept. 22, 2021, news release, saying they were issued by a federal grand jury in the Western District of Wisconsin.
"Two Afghan Evacuees Charged with Crimes," the headline on the press release blared. The DOJ says the cases are not connected.
"In unrelated cases, two individuals have been charged with crimes while at Fort McCoy, Wisconsin," the press release said.
Bahrullah Noori & Mohammad Imaad Charges
"Bahrullah Noori, 20, is charged with attempting to engage in a sexual act with a minor using force against that person, and with three counts of engaging in a sexual act with a minor, with one count alleging the use of force. The indictment alleges that the victims had not attained the age of 16 years and were at least four years younger than the defendant," alleges the release.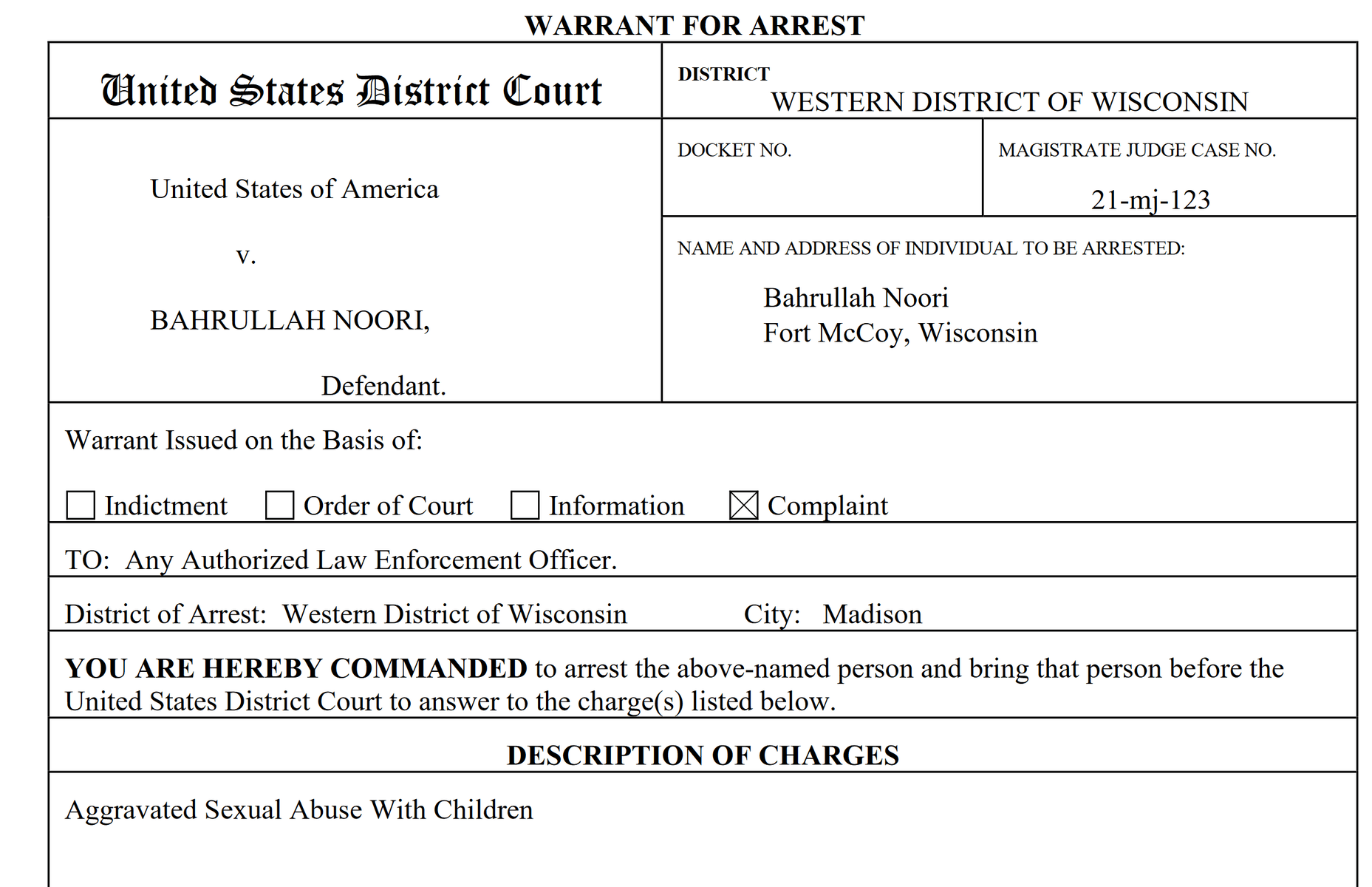 "The arrest warrant describes the charges against Noori as "aggravated sexual abuse with children" and gives his address as Fort McCoy. Detention was requested. Read the warrant here. An interpreter was required.
"Mohammad Haroon Imaad, 32, is charged with assaulting his spouse by strangling and suffocating her.  The indictment alleges that the assault occurred on September 7, 2021."
According to the release, "Noori and Imaad were charged previously in complaints filed in U.S. District Court. They made initial appearances in Madison on September 16 and are being detained at the Dane County Jail. Noori and Imaad are scheduled for arraignment tomorrow, September 23, at 9:30 a.m. and 10:15 a.m., respectively, before U.S. Magistrate Judge Stephen L. Crocker."
The release notes:
"If convicted, Noori faces a mandatory minimum penalty of 30 years and a maximum of life in federal prison on the charges alleging use of force, and a maximum penalty of 15 years on the other two charges. Imaad faces a maximum penalty of 10 years. The charges against them are the result of investigations by the Federal Bureau of Investigation and the Fort McCoy Police Department. Assistant U.S. Attorney Taylor Kraus is handling the Noori prosecution and Assistant U.S. Attorney Zachary Corey is handling the Imaad prosecution."
The release comes on the heels of concerns about how the Afghan refugees at Fort McCoy have been vetted, with public relations officials for the U.S. government clamping down on, and releasing, almost no information.
Bahrullah Noori Complaint Details
The government moved to redact the complaint. Some details were available in the court documents. According to the affidavit, at Fort McCoy, Bahrullah Noori "knowingly attempted to engage in a sexual act with Victim 1," who was between the ages of 12 and 16 and was at least four years young er than the defendant. This occurred "by use of force.'
Victim 2 was similarly described.
The complaint says that, on Sept. 11, 2001, Army soldiers responded for a report of a sexual assault among the Afghan refugees at Fort McCoy.
The soldiers contacted a man who was related to Victim 1 and victim 2. Through an interpreter, the complainant stated that Bahrullah Noori, age 20, was "molesting his son and nephew." He went to the bathroom and "saw Noori taking the clothes off of Victim 1 and was trying to have sex with him."
The person, whose name was redacted, later went to the bathroom and observed Bahrullah Noori kissing Victim 2. Victim 1 and 2 said that "Noori has been doing this kind of thing for the last couple weeks" and told them if they told anyone he would "beat them."
The records say there was confusion over the exact age of victim 1; his documents showed he was 14, but he told interviewers he was 12. Victim 2's documents show he is 12, but he told interviewers that he was 11.
The complaint says that the witness and an interpreter worked to develop a statement on the incident. It states that at 1:30 a.m. the night before, the complainant heard his nephew crying in the restroom and saw him (Noori) bend Victim 1 "hand to his back trying to have sex with Victim 1."
Victim 1 told the complainant "that every night he (Noori) asks him to come sleep with him especially when (complainant) is not around." He gave a statement saying that he caught Bahrullah Noori kissing Victim 2 on Sept. 11, 2021. "The statement indicates that Noori has been abusing Victim 1 and Victim 2 for the last 15 days and both kids told (the complainant) that Noori asks them to sleep with him every night."
On Sept. 12, 2021, federal law enforcement interviewed Victim 1 about the "allegations of sexual abuse." Through an interpreter, Victim 1 stated that there were "two instances of sexual abuse involving Noori."
On Sept. 10, 2021, he said he woke up to go to the bathroom but Noori "grabbed his arm and restrained him. Noori then pulled up Victim 1's Aghan-style clothing and touched Victim 1's stomach, back and shoulders under the clothing. Victim 1 began to cry, tried to pull Noori's hands away and told Noori to leave him alone and that Nori was a pervert."
Noori told Victim 1, "give me your ass," which literally means "let me f*** you." Noori threatened to beat Victim 1 if Victim 1 told his uncle. At that point, the complainant walked into the bathroom, Noori stopped, and Victim 1 went back to bed.
In another incident, the complaint says, Bahrullah Noori woke a victim up and went into his cot, rubbing his stomach and back and kissing Victim 1 and biting his cheek. Victim 2 had difficulty identifying the dates and order of each incident but knew that Bahrullah Noori abused him twice in the bathroom and once on Noori's cot. He thought it was on September 2, 2021.
He claimed that Bahrullah Noori used his hand and touched his buttocks, penis and "everywhere" under his clothes.
In a restroom incident, Victim 2 was in the bathroom to retrieve his brother's boots and Noori held him and twisted his hand and told him "give me your ass or I will beat you."
The boy started crying and moving away. Nori bit him on the cheek and he felt pain.
He later had slight discoloration to his cheek.
Noori is accused of touching Victim 2's genitals.
He told him to "touch my d***."
Mohammad Imaad Complaint Details
The complaint against Mohammad Imaad says that, on Sept. 7, 2021, Army soldiers responded to a domestic disturbance at Fort McCoy among the Afghan refugee population.
A female Afghan refugee told one of the soldiers through an interpreter "that she had been struck and choked by her husband." She also told the soldier that her husband "struck the children on multiple occasions."
The soldier saw visible bruising on her right eye and redness to the front portion of her throat.
She told authorities "he beat me many times in Afghanistan to the point I lost vision in both eyes."
She said he choked her and "threatened to kill me."
She and her children were moved into an all-female barracks.
On Sept. 9, she fainted and was taken to receive medical treatment. She stated that she had been the victim of hitting, strangulation, verbal abuse as well as rape since arriving to Fort McCoy at the hands of Mohammad Imaad. She said he has "repeatedly threatened her, telling her that nine women have been killed since getting to Fort McCoy and that she would be the tenth."
The complaint further alleges:
She threatened to send her back to Afghanistan "where the Taliban could deal with her" and told her the "police would not believe anything that she told them."
She said her mother was in the barracks and she was worried for her safety.
A soldier went there to protect her mother and immediately upon the soldier's arrival he noticed a male walking toward the front door who informed the soldier that he was looking for his wife who was in the clinic.
It was Mohammad Imaad, and he was detained, says the complaint.