The Wisconsin Young Republicans have dramatically increased their number of voter contacts and other outreach, helping drive exciting momentum in the spring for conservative candidates and winning a national award as a result.
The Wisconsin Young Republicans (WIYRs) received the 2021 State Federation of the Year Award Saturday at the Young Republican National Federation (YRNF) biennial National Convention. "The top award recognizes great effort by a state federation's leadership team and membership in carrying out major election operations and growing the party within the young professional age bracket of 18-40 within their state," a press release from the Wisconsin Young Republicans says.
We spoke to state Chairman Nik Rettinger, who gave us some impressive statistics:
He said the state chapter made over 3 million voter contacts last year, far more than any other state, started three new local chapters, trained over 300 grassroots activists, saw record attendance at its convention, and nearly doubled its state membership. The Young Republicans have focused extensively on door-knocking and election deployment to help local candidates in Wisconsin and also Republicans in neighboring states.
This energy helped drive conservative successes in school boards and other local races last spring (Young Republicans made more than 70,000 voter contacts in spring races), and the next focus is recruitment with a focus on the governor's race, retaining U.S. Sen. Ron Johnson's seat, and helping former Navy SEAL Derrick Van Orden flip Ron Kind's Congressional seat in western Wisconsin.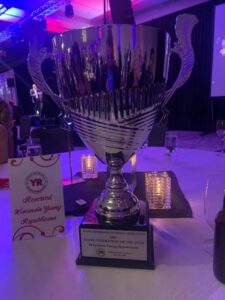 He believes the COVID-19 pandemic and Biden presidency are galvanizing young adults to join the GOP, but he says conservative principles on things like government bureaucracy and taxation are driving interest as well.
"We have a high level of participation," he said.
"I think that there is a huge connection with the principles of the party, he said. He said that young adults are starting careers and families and are "coming headstrong into the bureaucracy of government and heavy taxation, things that are blocking those dreams and goals." He also cited an interest in "individual liberty" to keep the right to "live their American dream, whatever that is and not have government stand in their way."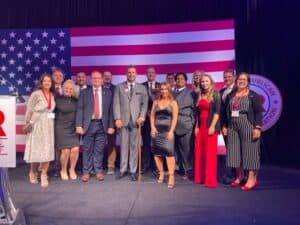 He said that Young Republicans are trying to "lead the charge" in the state. "Driving turnout is our biggest thing," he said, also noting "hot button issues like CRT" interest voters.
---
Wisconsin Young Republicans Spring Successes
Just how successful were the Wisconsin Young Republicans efforts last spring? Consider:
Conservatives boasted wins for numerous school board candidates across the state — especially in races where they targeted incumbents who had fought to keep classrooms empty.
This included former WI-07 congressional candidate Tricia Zunker for the Wausau School Board, who came in last place.
Additionally, the GOP achieved upset wins in places like La Crosse, where we helped elect Deputy Police Chief Rob Abraham to the school board after the board had recently voted to eliminate police from schools.
Incumbents across the state who fought to keep schools closed were defeated, including:
Oconomowoc: The incumbent who led the charge to keep schools closed was defeated while 2 other incumbents who supported opening schools were re-elected.
Menominee: Only one member of the school board opposed re-opening the schools, and he was defeated.
Ozaukee County: Incumbents in Port Washington, Mequon and Cedarburg who resisted re-opening schools were defeated.
Sheboygan area: A parent ran on the platform on giving children the opportunity to learn in-person five days a week and ousted an incumbent.
Another Democrat, incumbent Winnebago County Executive and former Oshkosh Mayor Mark Harris, was defeated by conservative challenger Jon Doemel.
In both Court of Appeals Elections, conservative candidates Judge Greg Gill and Judge Shelley Grogan came out on top.
Judge Shelley Grogan defeated a Tony Evers-appointed incumbent.
These successes were the result of many outreach efforts by different organizations, including the Wisconsin Republican Party, of course, but the Young Republicans clearly played a key role.
The Republican candidates in both legislative special elections, John Jagler in the 13th Senate District and Elijah Behnke in the 89th Assembly District, handily won their races.
Rettinger, who was also elected to the national board, grew up in Waukesha County and works for a state Senator. He said he is one of what "Mark Belling often refers to as Belling babies. My mom had talk radio on a whole lot." As a result, he was exposed to Republican principles early on. The Young Republicans are Republicans ages 18 to 40.
"The Wisconsin Young Republicans stand ready to be the tip of the spear in 2022, to flip the 3rd Congressional, hold U.S. Senator Johnson's seat, and retake the Governor's mansion. YRs are the now, and it will truly be the year of the Young Republican," the press release says.
The Wisconsin Young Republicans (WIYR) is the official chartered Wisconsin Chapter of the Young Republican National Federation (YRNF). The Young Republicans, under the mission of Recruit, Train, Elect, bring together Republicans aged 18 – 40 to foster civic involvement, educate on current issues and provide effective grassroots campaign support to Republican candidates for office as well as YRs who run for office.
For more information, please visit .
About the Young Republican National Federation
The Young Republicans (YRs) are the oldest political youth organization in the United States. Important to the growth of the Republican Party, the YRs reach out to registered Republicans, 18 to 40 years of age, and provide them with better political knowledge and understanding of the issues of the day.
Since its creation, the YRNF has established itself as the premier Republican grassroots organization in the nation, providing essential grassroots support for Republican candidates and conservative issues on the local, state and national levels. No matter what your long-term goals may be, the YRs serve as the building blocks for a successful future. For more information, please visit www.yrnf.com