We've obtained the 43-page criminal complaint charging Milwaukee Ald. Chantia Lewis with four felonies relating to embezzlement and misuse of campaign finances. Prosecutors say the alderwoman, who has a history of anti-police rhetoric and is running as a Democrat for U.S. Senate against Ron Johnson, went on an illegal multi-year campaign finance spending binge, using donations and unlawful city expense reimbursements as her own personal piggy bank, for everything from meals at Waffle House and Hooters to trips to Las Vegas, Mt. Olympus in Wisconsin Dells, and a trampoline park.
You can read the complaint in full here.
Lewis is charged with four felonies for misconduct in office, theft in a business setting (embezzlement), making false reports and statements about campaign finances and accepting unlawful disbursement from campaign finances. She's also charged with a misdemeanor for theft false representation.
We've written about Lewis several times before; she joined a group of alderman calling President Donald Trump's election recount request evil and racist, she proposed having the city pay residents to shovel snow out of driveways, called the initial rejection of a federal COPS grant to fund more officers a sign of hope, voted to disallow the use of police K-9s, pushed an unarmed first responders task force as Water Street erupted in violence, and called Chief Morales' lawyer a racist.
According to online court records, Lewis was sent a summons and was ordered to appear at the Milwaukee Safety Building on Sept. 29. That means she was not arrested nor booked in the jail. We asked DA John Chisholm's spokesman Kent Lovern why. He told Wisconsin Right Now, "This is common for non-violent offenses, particularly since Covid-19 protocols were instituted within the court system last year."

Lewis received a $1,600 donation from Kalan Haywood that exceeded the statutory limit for campaign donations, but she deposited it as three separate donations with two under the names Mark Wade and Rashaun Islam, providing false information on her campaign finance reports, the complaint alleges, calling her actions "intentional" and pervasive.
Lewis is fighting the charges. Lewis's lawyer told Fox 6 that her behavior wasn't criminal. "These are better categorized as accounting errors, which we offered to correct," Attorney Jason Luczak said.
The prosecution begs to differ.
"She abused her trust and her authority by spending campaign funds for purely personal expenses," it says.
In a statement obtained by Wisconsin Right Now, Common Council President Cavalier Johnson wrote, "In light of the five felony charges brought against Alderwoman Chantia Lewis by Milwaukee County District Attorney John Chisholm, I am, effective immediately, relieving her of all committee assignment duties. Make no mistake that our judicial system presumes that every individual is considered innocent until proven guilty in court. However, until this matter is resolved, I am moving without hesitation to protect the institution of the Milwaukee Common Council, as well as the City of Milwaukee." (Editor's note: She was actually charged with four felonies and one misdemeanor).
Mayor Tom Barrett told the Milwaukee Journal Sentinel he had not yet read the criminal complaint, but said, "Any time you're talking about public trust, I take that very, very seriously and am very concerned about that. I'm also, I think as we all recognize, well aware of the fact that individuals are presumed innocent until proven guilty. So what I want to do is I want to take a look at the complaint and then decide what steps to take after that."
---
What the Complaint Alleges Chantia Lewis Illegally Spent Campaign Finance Dollars on
Lewis, the alderwoman for the 9th aldermanic district in the City of Milwaukee, was elected in 2016 and re-elected in 2020. The complaint alleges that she "filed false campaign reports," and "misappropriated funds belonging to her campaign by depositing campaign contributions into her personal bank accounts, as well as using campaign funds to pay for personal expenses."
She also falsely represented to the City of Milwaukee that she was owed reimbursement for expenses incurred on city travel, when she had paid for the expenses out of her campaign account, the complaint alleges.
She also structured a campaign contribution to avoid the contribution limit requirements, it says.
She defrauded Milwaukee and her campaign of at least $21,666.70, it reads.
The District Attorney's office, in May 2020, decided to conduct a review of "the different alderpersons in Milwaukee" to see if there were improprieties in campaign finance filings and travel reimbursements. Inconsistencies popped up in Lewis's records.
According to the criminal complaint:
Lewis commingled personal and campaign accounts and deposited campaign donations into her personal bank account and would use campaign funds for personal expenses. She repeatedly withdrew cash from her campaign finance account with an ATM.
She spent campaign funds on things like Agape Love Bible College and Matt's Foreign Car Specialists.
The complaint outlines various trips she took for her job in which she "engaged in double dipping" by requesting city reimbursement when she had used campaign funds to pay for them.
One came in a trip to Pittsburgh in 2016 for the National League of Cities. She charged things like taxi services and baggage fees.
She traveled to Las Vegas, Nevada for a Global Retail Real Estate Convention. She charged taxi and Uber expenses as well as a buffet and burger restaurant, the complaint says.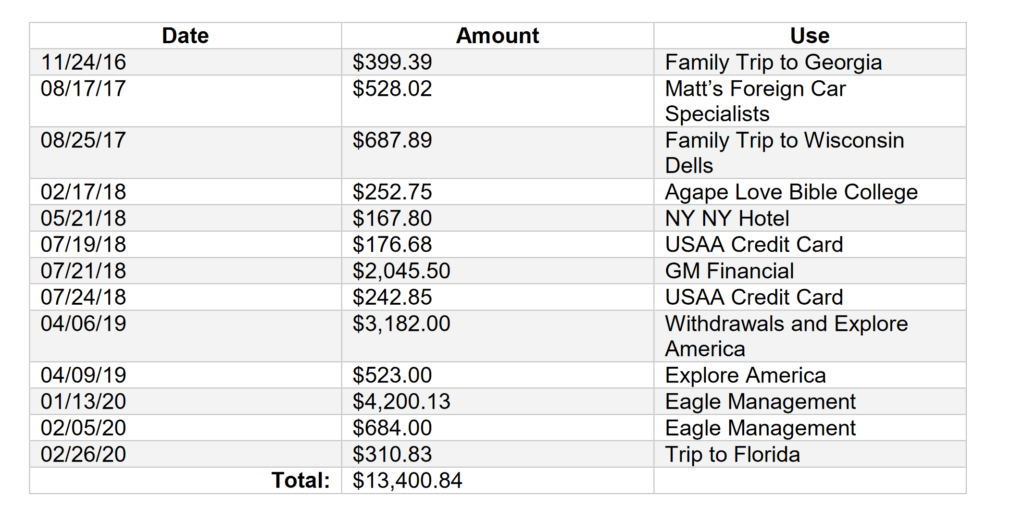 She also went to Houston Texas, for the Local Progress 6th Annual Convening. She spent money on food and Ubers among other things, it says.
The complaint further alleges:
Lewis went to Washington DC for the NLC Congressional City Conference. She sought reimbursement for taxi expenses. She also traveled to Vegas for another real estate convention. She stayed at the New York New York Hotel and spent money at Hooters and on Ubers.
She went to Little Rock, Arkansas, for the NLC Summer Board and Leadership conference. There were other similar trips to Minneapolis, Florida, Miami, and so on. Altogether, nine trips are listed with a loss to the city of more than $2,000.
A woman named Martha Love wrote a check giving $50 to Lewis's campaign.
But there was no record the check was deposited into her campaign, and it was not listed as a contribution on her report. The check was deposited into her personal account.
Similarly, she received a check for $100 from Mohammed Ghaffer, a business owner. She deposited it into her personal account.
There are other similar checks.
She used her campaign funds to pay for trips, car care, credit cards and other expenses, contrary to law, the complaint says.
It says she financed a family trip to Marietta, Georgia, charging things like meals at the Waffle House and Chipotle. Some expenses were listed falsely as campaign expenditures and others she did not include at all, the complaint contends.
"There is no reason that a local public official who deals solely with City of Milwaukee issues would need to campaign in Georgia, approximately 800 miles away," the complaint says.
There was also an expenditure to a trampoline park.
A similar allegation is made about a family trip to Wisconsin Dells. "She used funds from her campaign account to finance her trip," including the Mt. Olympus arcade and food, it says, adding that she posted a picture of herself and her family at Mt. Olympus and misappropriated $687.89 for that trip.
She also went to a worship conference in Orlando, Florida for personal reasons. There were expenditures to Waffle House and McDonalds. She also paid for her personal apartment with campaign funds, the complaint alleges, to repair her car, and for tuition at Agape Love Bible College. She made payments to her credit card, the complaint alleges.
These were not all of the instances of her misappropriation of campaign funds but were "illustrative of her actions," says the complaint.