"Just gonna drop this here, so we can have a nice bundle for whoever runs against him." – Kelda Roys' tweet
A Democratic legislator, Kelda Roys, is under fire for cruel tweets trashing a Republican lawmaker, Andre Jacque (R-DePere) and trying to raise money to get him out of office, as he lies in the hospital battling COVID-19.
Former Lt. Gov. Rebecca Kleefisch was among those criticizing the Kelda Roys tweets. "She should resign," Kleefisch tweeted. Conservative Mike Mikalsen, a legislative staffer, wrote on Twitter, "A prime example of Wisconsin elected Democrats…they are just horrible human beings. Sen. Kelda Roys regularly proves she is lower than all the rest!"
Instead, Kelda Roys, a Democrat from Madison, doubled down on her attacks against the ailing Jacque, a father of six, including an infant. Jacque, 40, is now reportedly on a ventilator in the hospital.
Kelda Roys' Tweets
In the Kelda Roys' tweet, she cruelly wrote of Jacque, "So predictable. Selfish, irresponsible, dangerous behavior like THIS is why I fear for my kids when they return to school. We need to require vaccination verification for in-person work and school, and universal masking until everyone's had a chance to be #vaccinated."
Kelda Roys then shared a link to a donation website for Democrats, writing, "Just gonna drop this here, so we can have a nice bundle for whoever runs against him." The Democrat's Aug. 17, 2021, tweets are still up.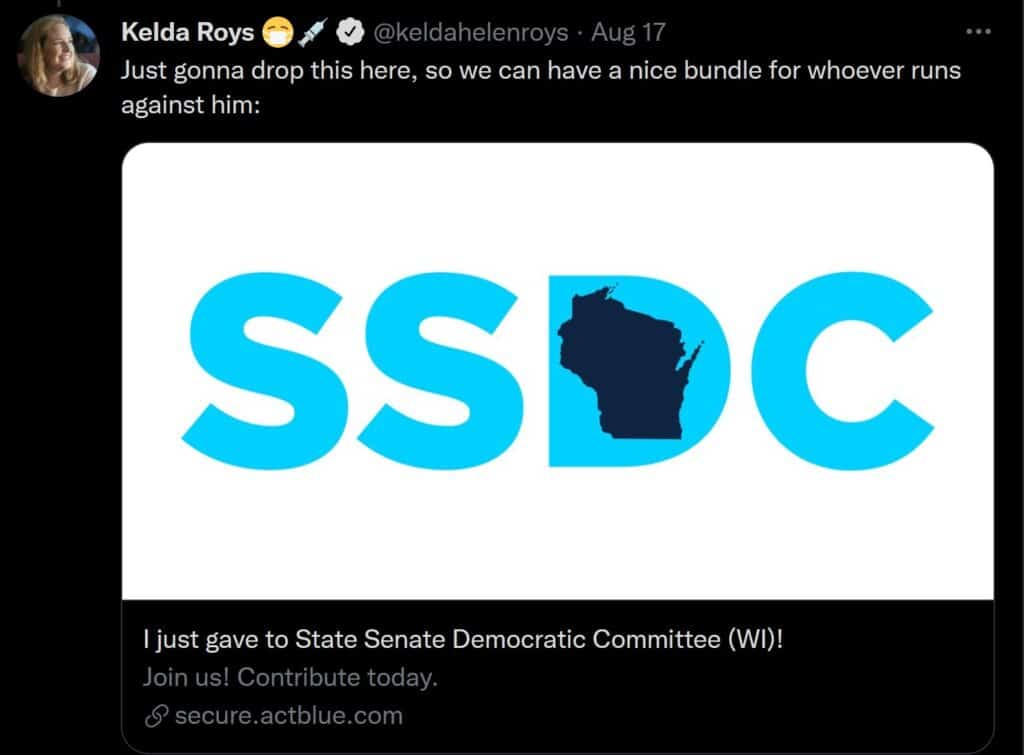 Kelda Roys tweet was in response to a tweet from Appleton Post-Crescent reporter Jessica VanEgeren, who wrote, "Jacque had testified on Wednesday before two committee hearings at the Capitol. He testified without a mask during at least one of the hearings, which was packed and where not everyone was wearing face coverings. He said he tested positive last week."
Andre Jacque's Covid Test Results Timeline
However, Jacque did not test positive for COVID-19 until after he testified and was back home, according to the Milwaukee Journal Sentinel, which quoted him as saying, "I did test positive for it at the end of last week after I came home from Madison."
He told the Journal Sentinel he doesn't know when he contracted COVID and was largely asymptomatic and only experiencing some fatigue when he tested positive.
Kelda Roys, who said on Twitter that she is pregnant, doubled down on her criticism of the ailing legislator, telling the Wisconsin State Journal: "There is a public health emergency going on, we're in a pandemic that is getting deadlier by the day because of in part the reckless actions of some of our elected leaders, and I'm going to do everything in my power to make sure we elect people who care about public health and who are going to do their best to keep all of our kids safe."
She added: "The fact that Sen. Jacque engaged in such reckless actions and the fact that the state Senate is showing a blatant disregard to public health by not doing any appropriate follow-ups or policy changes, that's continuing to put people needlessly in harm's way….As a human being I have every hope that Jacque recovers quickly, I don't want anyone sick from COVID and that's the whole point," Roys said. "That's why I got vaccinated, that's why I wear a mask, that's why I encourage others to do so."
Jacque opposes mask and vaccine mandates. Jacque is "State Senator for the 1st State Senate district representing Northeast Wisconsin. Chairman of the Senate Committee on Human Services, Children and Families."